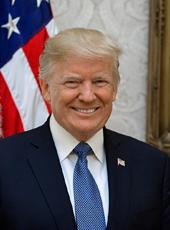 President Donald Trump is Rebuilding American Strength and Confronting Threats
"As we rebuild America's strength and confidence at home, we are also restoring our strength and standing abroad." – President Donald J. Trump
FIGHTING TO REBUILD OUR MILITARY: President Donald J. Trump has fought for our military since day one and has sought to provide our troops with the funding they need.
On February 9, 2018, President Trump signed a two-year budget deal raising the military's budget caps for national defense to $700 billion for Fiscal Year 2018 and $716 billion for Fiscal Year 2019.

Raising the budget caps fulfills the President's promise to end years of harmful sequestration budget restraints on our military and will help the military rebuild.
The new budget cap increases Fiscal Year 2018 defense spending over the previous year by nearly $70 billion, a 10 percent increase and the largest increase for our military since 2007.
The budget deal provides for funding levels that would support for thousands more troops and billions more in funding for missile defense.

President Trump signed the Fiscal Year 2018 National Defense Authorization Act (NDAA), which authorized important priorities for defense spending.

The NDAA authorized $626 billion of base budget resources for the Department of Defense and the Department of Energy national security programs, providing an additional $66 billion for Overseas Contingency Operations.
The NDAA authorized a 2.4 percent pay raise for our troops, providing a significant improvement in quality of life for the members of our military.
The NDAA included authorization for $146.2 billion for military personnel, including pay, allowances, and bonuses.
The NDAA adds thousands to the size of U.S. forces and provides billions of dollars for the air, land, and sea equipment our military needs.
The NDAA authorizes key investments in readiness across the military, supporting Army, Navy, Marine Corps, and Air Force operations and maintenance.

The President has called for a major modernization of our nuclear forces to ensure that the U.S. deterrent is modern, robust, flexible, ready, and resilient.
AN AMERICA FIRST NATIONAL SECURITY STRATEGY: President Trump has charted a new course for America's foreign policy, putting the interests and security of the American people first.
President Trump has outlined a national security strategy following four key pillars:

protect the homeland, the American people, and the American way of life;
promote American prosperity;
preserve peace through strength; and
advance American influence.
ENDING THE THREAT OF TERROR: President Trump has made great strides in fulfilling his promise to defeat ISIS and tackle the threat of terror around the world.
ISIS has lost nearly 100 percent of its former caliphate.

More than 50 percent of the territory liberated from ISIS has been liberated under the Trump Administration, freeing another 5 million people from ISIS's oppression.
The President is committed to destroying ISIS, and the Global Coalition will hunt these terrorists wherever they hide.

President Trump is making clear to our allies that they cannot be America's friends while supporting or condoning terror.

The President has suspended security assistance to Pakistan, sending a long-overdue message to the recipients of American foreign aid that we expect them to fully join us in combatting terrorism.
In Riyadh, Saudi Arabia, President Trump called on representatives of over 50 Muslim-majority nations to do more to combat terror and extremist ideology.
DETERRING THREATS TO THE AMERICAN PEOPLE: President Trump has made strong and necessary moves to deter threats to the United States.
The President has led and executed an international maximum pressure campaign against North Korea to compel North Korea to denuclearize and cease its dangerous provocations.

The President has rallied world powers in support of increasing economic and diplomatic pressure.
The global maximum pressure campaign appears to be working—North Korean leader Kim Jong-Un has committed to ceasing provocations and expressed willingness to denuclearize.
The President has agreed to meet with the North Korean leader and will use this opportunity to hold the regime to its commitment to denuclearize the Korean peninsula.

The President has taken aggressive action to confront Iran's threatening behavior, including imposing sanctions on dozens of Iran-linked entities and refusing to re-certify the Iran deal.
The President ordered missile strikes in Syria, in opposition to Syrian President Bashar al-Assad following his use of chemical weapons against his own people. In doing so, the President stood up for the global norms against the use of chemical weapons.
Donald J. Trump, President Donald Trump is Rebuilding American Strength and Confronting Threats Online by Gerhard Peters and John T. Woolley, The American Presidency Project https://www.presidency.ucsb.edu/node/335982