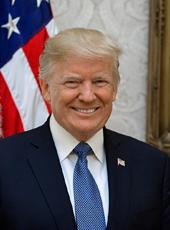 President Donald J. Trump's Tax Cuts Are Energizing American Employers Of All Sizes
"There's never been a better time to hire in America, to invest in America, and to start living the American Dream. There's never been a better time than this. Because the future of America doesn't belong to the privileged few, it belongs to all of the people." – President Donald J. Trump
ENERGIZING AMERICAN BUSINESS: Optimism and plans for growth are soaring as businesses feel the benefits of President Donald J. Trump's tax cuts.

Optimism among American manufacturers has reached unprecedented levels according to the most recent Outlook Survey from the National Association of Manufacturers (NAM).


Manufacturer optimism stood at 93.5 percent in the most recent survey, the second highest reading in the survey's history.
Projected employment growth, new capital investments, and inventory increases all reached all-time highs in the survey.
According to the survey, manufacturers expect sales to grow over the next year at the second fastest pace on record.
Manufacturers anticipate wages will grow at the fastest pace in 17 years.

Small businesses are worrying less about taxes and are investing more in their workers according to a National Federation of Independent Businesses (NFIB) survey from March 2018.


Taxes received the fewer votes as the number one problem facing small businesses for the first time since 1982.
The proportion of small businesses that reported raising their worker's compensation reached its highest level since 2000.

A March 2018 survey of business executives by Ernst & Young, looking at how companies plan on using their tax savings found that:


75 percent expect to expand manufacturing in the United States.
89 percent plan to increase worker compensation.
66 percent will likely pass on some of their tax savings to customers.
69 percent expect to bring back more earnings to the U.S. from overseas than they would have otherwise.

The Federal Reserve cited the Tax Cuts and Jobs Act as a key factor in increasing their economic projections for the United States over the next several years.
BENEFITING EMPLOYERS OF ALL SIZES: Businesses of all sizes are using their tax savings to invest in their hardworking employees.
From small family businesses on up, American employers have been able to raise wages and increase benefits for their workers as a result of the Tax Cuts and Jobs Act.

More than 5.5 million hardworking taxpayers have received bonuses, pay raises, and increased benefits.

Wichita Railway Services gave each of its five employees a tax cut bonus between $3,000 and $6,000.
In March, Muncie Aviation Company gave its 55 full-time and 8 part-time employees a bonus due to its tax savings and 2017 business performance.
Cox Enterprises has announced it will provide most of its nearly 60,000 employees with bonuses between $1,000 and $2,000 in April.
McCormick & Company has announced it will provide $1,000 tax cut bonuses to eligible hourly employees in May.
McDonald's Corporation announced it would invest $150 million in its education program which provides employees with opportunities to earn a high school diploma, college tuition assistance, and free education advising.
REVITALIZING THE ECONOMY: The Tax Cuts and Jobs Act is contributing to a healthy American economy under President Trump.

United States gross domestic product (GDP) growth for the fourth quarter of 2017 was revised up to 2.9 percent, beating expectations.
More than 2.5 million jobs have been added since President Trump took office.


263,000 manufacturing jobs have been added.
277,000 construction jobs have been added.

The unemployment rate has remained at a 17-year low of 4.1 percent since October of last year.
The number of Americans receiving unemployment insurance benefits has fallen to its lowest point since 1973.
Donald J. Trump, President Donald J. Trump's Tax Cuts Are Energizing American Employers Of All Sizes Online by Gerhard Peters and John T. Woolley, The American Presidency Project https://www.presidency.ucsb.edu/node/335961