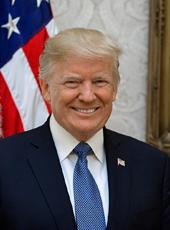 President Donald J. Trump Signs H.R. 1892 into Law
On Friday, February 9, 2018, the President signed into law:
H.R. 1892, the "Bipartisan Budget Act of 2018," which authorizes the U.S. flag to be flown at half-staff in the event of the death of a first responder in the line of duty. Division B of the enrolled bill provides additional emergency supplemental appropriations related to recent hurricanes, wildfires, and other disasters including tax relief and Medicaid changes; division B also includes a short-term continuing resolution that provides fiscal year (FY) 2018 appropriations for continuing projects and activities of the Federal Government through Friday, March 23, 2018. Division C of the enrolled bill increases the discretionary defense and non-defense category caps in FY 2018 and FY 2019; extends the sequestration of mandatory spending by two years; division C also establishes two Joint Select Committees, a committee to improve the solvency of multiemployer pension plans and a committee to provide recommendations on reforming the budget and appropriations process; temporarily suspends the statutory debt limit through March 1, 2019. Division D of the enrolled bill extends provisions that provide tax relief to families and individuals; provides incentives for job growth; and incentives for energy production and conservation. Division E of the enrolled bill extends or modifies Medicare, Medicaid, and other health programs, including various foster care and child welfare programs, and includes various offsets related to Medicare, Medicaid, and other health programs. Division F of the enrolled bill includes agriculture program improvements for cotton, livestock, and dairy producers. Division G of the enrolled bill includes direction regarding the budgetary effects of division A, subdivision 2 of division B, division C, and each succeeding division. Additional information regarding these provisions can be found in the attachment.
Donald J. Trump, President Donald J. Trump Signs H.R. 1892 into Law Online by Gerhard Peters and John T. Woolley, The American Presidency Project https://www.presidency.ucsb.edu/node/332122