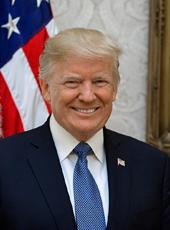 President Donald J. Trump Is Reducing Barriers That Are Holding Back American Manufacturers
"We want companies to hire and grow in America, to raise wages for American workers, and to help rebuild American cities and towns. When we grow American manufacturing, we don't only grow our jobs and wages, but we also grow America's spirit." – President Donald J. Trump
OUTDATED AND UNNECESSARY BARRIERS TO GROWTH: Aspects of the National Ambient Air Quality Standards (NAAQS) program are outdated, inefficient and in need of reform.

NAAQS are established pursuant to the Clean Air Act and are required to be reviewed every five years by the Environmental Protection Agency (EPA).


Since 1970, emissions levels of criteria pollutants under the NAAQS program have declined dramatically.

EPA has revised NAAQS multiple times to increase their stringency and each revision brings new planning and permitting requirements for affected States, localities, and regulated industries.


NAAQS are approaching "background levels" in some areas, meaning they are at levels associated with natural sources or emissions originating outside of the United States.

When NAAQS are revised, States which are not in compliance with the new standards must submit State Implementation Plans to EPA to show how they will comply.


Delays in the processing of these plans leads to backlogs and creates regulatory uncertainty and practical challenges for States, localities, and regulated entities.

As NAAQS have become more stringent, manufacturers have also experienced delays in obtaining air permits needed to build new facilities or expand existing ones.


Manufacturers face a range of burdens under the current NAAQS program, including difficulties in demonstrating compliance where updated guidance, modeling, and other permitting tools have not been made available to States and permit applicants.
REGULATORY CERTAINTY AND FEWER DELAYS: President Donald J. Trump's Administration will reform NAAQS implementation to provide States with a more efficient process and to promote economic growth.

President Trump is signing a Memorandum directing the EPA to undertake long-overdue reforms in implementation of NAAQS.
At the President's direction, EPA will take a series of actions designed to make the NAAQS program more efficient and cost-effective.


These reforms will help responsibly protect the environment while reducing unnecessary barriers that are holding back manufacturing and business growth.

The reforms laid out in the President's Memorandum will give States regulatory certainty and more flexibility in their implementation of NAAQS.


State Implementation Plans will be processed within 18 months of submission.
State requests for regulatory relief due to emissions beyond their control, including exceptional events and international emissions, will also be timely processed by EPA.
Regulations and guidance needed for implementation of revised NAAQS will be issued concurrently with revised standards, giving States, localities and regulated industries the information they need for compliance up-front.
EPA will work to ensure transparency in the NAAQS review process.
EPA will also work cooperatively with States to review the Regional Haze Program and replace Federal Implementation Plans with State Implementation Plans where possible.

The President is directing EPA to implement NAAQS reforms aimed at reducing lengthy permitting delays.


EPA will review the NAAQS permitting process to identify ways to ensure permit applications receive timely decisions, including through updated modeling and technical support for States and permit applicants.
Final action will be taken on preconstruction permit applications within one year of submittal of a complete application to EPA.
Where States are the direct permitting authority, EPA will assist States in the timely issuance of preconstruction permits.
STRENGTHENING AMERICAN MANUFACTURING: Reforms to NAAQS implementation will build on the President's efforts to strengthen American manufacturing.

Since taking office, President Trump has worked to restore American manufacturing and to help ensure more products are "Made in America."


Under President Trump, the National Association of Manufacturers' Outlook Index has reached its highest point in history.
263,000 manufacturing jobs have been added since the President took office.

During his first year in office, President Trump cut excessive regulations that have been holding back businesses, including manufacturers, for far too long.


President Trump's Administration saved more than $8.1 billion in lifetime regulatory costs in fiscal year (FY) 2017.
In 2017, the Administration eliminated 22 regulations for every one new regulation, far exceeding the initial goal of two-to-one.

Thanks to the historic Tax Cuts and Jobs Act signed into law by the President, businesses will be able to immediately write off the full cost of heavy equipment purchases and other capital investments.
Donald J. Trump, President Donald J. Trump Is Reducing Barriers That Are Holding Back American Manufacturers Online by Gerhard Peters and John T. Woolley, The American Presidency Project https://www.presidency.ucsb.edu/node/335963