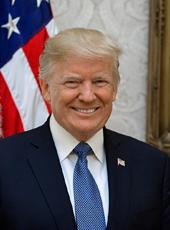 President Donald J. Trump is Enhancing the Effectiveness of Agency Chief Information Officers
"We're embracing big change, bold thinking, and outsider perspectives to transform government and make it the way it should be, and at far less cost." – President Donald J. Trump
IMPROVING AGENCY INFORMATION TECHNOLOGY: President Donald. J. Trump is signing an Executive Order to enhance the effectiveness of Federal Agency Chief Information Officers (CIOs).
President Trump's Executive Order will implement successful Information Technology (IT) management practices from the private sector, enabling agencies to reduce costs, better protect sensitive data, and improve services offered to the public.
President Trump is designating a strong role for agency CIOs, empowering them to act more strategically.

Agencies will be able to more effectively leverage technology to accomplish their missions, cut down on duplication, and make IT spending more efficient.

President Trump's Executive Order will improve agency compliance with statutes.
President Trump's Executive Order requires agency CIOs to report directly to their agency heads.
President Trump's Executive Order will increase the ability of agency CIOs to influence decision making across bureaus and drive an enterprise-wide view of IT.

Agency CIOs will be made voting members of bureau-level IT governance boards.

President Trump's Executive Order will improve the ability of agency CIOs to hire qualified IT personnel.
INEFFICIENT MANAGEMENT: Past legislation has attempted to consolidate agencies' IT spending, yet success in implementing reforms has varied from agency to agency.
Multiple laws, including the Clinger-Cohen Act and the Federal Information Technology Acquisition Reform Act (FITARA), have sought to consolidate IT spending authority and responsibility and bring them under the management of agency CIOs.
Only half of agency CIOs currently report to their agency head or principal deputy.
Despite legislative efforts, most agency CIOs still have limited control over IT spending.

CIOs at multiple agencies do not "have the authority to review and approve the entire agency IT portfolio," according to the Government Accountability Office (GAO).

Lack of centralized control by agency CIOs over IT has contributed to duplication.

Multiple Federal agencies currently operate duplicative email, human resources, financial management, and other systems.

Agency CIOs often have limited oversight over component CIOs.

Many agencies do not require the hiring of component CIOs to be approved by the agency CIO, despite requirements in FITARA and guidance from OMB.

The lengthy Federal hiring process, which can take more than six months for many positions, makes recruiting talented IT employees more difficult.
BACKWARD-LOOKING AND WASTEFUL SPENDING: Federal agencies have struggled to improve information technology.
The Federal Government spends around $90 billion dollars every year on IT, which is often fragmented across bureaus, programs, and offices.

Breaking up spending this way contributes to duplication and the ineffective management of resources.

Agencies have struggled to modernize IT systems, largely allocating resources toward the maintenance of older systems rather than using those funds to transition to modern technologies.

Approximately 80 percent of funds budgeted for IT goes to maintaining legacy systems.

Billions of dollars have been wasted on failed projects to modernize IT, as they have too often run over budget, fallen behind schedule, or failed to deliver intended results.

According to the GAO, the Federal Government "has spent billions of dollars on failed IT investments."
Donald J. Trump, President Donald J. Trump is Enhancing the Effectiveness of Agency Chief Information Officers Online by Gerhard Peters and John T. Woolley, The American Presidency Project https://www.presidency.ucsb.edu/node/335927