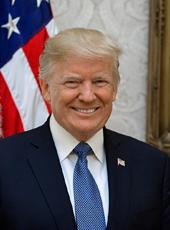 President Donald J. Trump and Prime Minister Shinzo Abe are Working Together to Strengthen the U.S.-Japan Alliance
"We cherish the friendship between the United States and Japan. And I cherish my friendship with Prime Minister Abe." – President Donald J. Trump
A CLOSE FRIENDSHIP: President Donald J. Trump and Prime Minister Shinzo Abe have worked together to reaffirm and reinforce the unwavering alliance between the United States and Japan.
In the days following the 2016 Election, Prime Minister Shinzo Abe was the first world leader to seek and arrange a meeting with then-President-Elect Donald J. Trump.

President Trump and Prime Minister Abe have developed an enduring friendship and trust, holding nearly 30 official meetings and phone conversations on a variety of issues.

President Trump and Prime Minister Abe have repeatedly reaffirmed their mutual commitment to fostering strong domestic, demand-driven growth and fair trade practices that result in reciprocal trade across the globe.

President Trump has praised Prime Minister Abe as a "very aggressive, strong, [and] tough Prime Minister" who has stood with the United States on a variety of issues.
Prime Minister Abe has remarked that, "over the half-century history of [the] Japan-U.S. alliance, we [have] never seen two leaders of Japan and the United States forging as close a relationship as ours and as strong a bond as ours in just one year."

Prime Minister Abe invited Advisor to the President Ivanka Trump to deliver keynote remarks at the World Assembly for Women in Tokyo, Japan last fall, underscoring both countries' commitment to empowering women in all aspects of life.
The unwavering security relationship between the United States and Japan has been reinforced through renewed defense commitments between President Trump and Prime Minister Abe.

President Trump has pledged to protect the people of Japan, as emphasized during his November visit to Japan in remarks to American and Japanese troops at Yokota Airbase and at his press conference with Prime Minister Abe.
The President and the First Lady have met with families of Japanese nationals abducted by the North Korean regime, with President Trump vowing to "work with Prime Minister Abe… and see if we can bring them back to Japan, where they want to be."
SHARED PROSPERITY: President Trump and Prime Minister Abe are working to continue a decades-long tradition of shared economic successes between our two nations.
Through rigorous investment, hiring, and workforce development, Japanese companies support over 850,000 American jobs.

Major Japanese companies such as Toyota, Mazda, Honda, and Denso have invested billions of dollars into American factories, R&D, and employment.
In his State of the Union address, President Trump praised Toyota and Mazda for investing $1.6 billion towards a new Alabama manufacturing plant, which has been estimated to create up to 4,000 American jobs.

Japan represents the third largest source of Foreign Direct Investment (FDI) into the United States, with total 2016 FDI exceeding $424 billion.
Under the Trump Administration, the United States and Japan have negotiated a series of mutually beneficial deals, strengthening the economies of both nations.

In November 2017, the U.S. Overseas Private Investment Corporation (OPIC) signed Memorandums of Understanding with the Japan Bank for International Cooperation (JBIC) and the Nippon Export and Investment Insurance (NEXI) to offer high-quality United States-Japan infrastructure investment alternatives in the Indo-Pacific region.
Also in November 2017, the U.S. Trade and Development Agency (USTDA) and Japan's Ministry of Economy, Trade and Industry (METI) signed a Memorandum of Cooperation to bring high-quality energy infrastructure to the Indo-Pacific region.
The United States and Japan have launched the Japan-United States Strategic Energy Partnership to promote universal access to affordable and reliable energy in Southeast Asia, South Asia, and Sub-Saharan Africa.
DENUCLEARIZING THE KOREAN PENINSULA: President Trump has worked with Japan to achieve denuclearization of the Peninsula and to protect our allies from the North Korean threat.
The President has implemented a campaign of maximum pressure against North Korea in order to compel the country to relinquish its nuclear weapons program.

Driven by the Trump Administration's leadership, the United Nations has passed four rounds of sanctions against North Korea.

The Trump Administration approved the sale of advanced missile defense technology to Japan, further protecting our ally from the North Korean ballistic missile threat.
In December and October 2017, the U.S., Japanese, and South Korean militaries conducted a joint ballistic missile defense exercises.
In September 2017, in response to a North Korean ballistic missile launch over Japan, U.S. Joint Strike Fighters and B-1 bombers joined the Japanese and South Korean air forces for joint exercises in South Korean and Japanese air space.
Donald J. Trump, President Donald J. Trump and Prime Minister Shinzo Abe are Working Together to Strengthen the U.S.-Japan Alliance Online by Gerhard Peters and John T. Woolley, The American Presidency Project https://www.presidency.ucsb.edu/node/335967