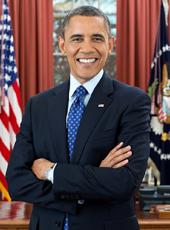 Prepared Remarks at a Town Hall in Bristol, Virginia
Thank you, Jay, for that generous introduction.
I also want to give a special shout-out to my friend and your congressman, Rick Boucher, even if he couldn't join us today. He was an early supporter of my campaign, he's an important voice in our fight for health insurance reform, and he's a leader in guaranteeing that clean coal has a future as an energy source that fuels thousands of jobs here and across the country.
It is great to be back in Bristol and back in Virginia, a state that's been so good to me. This is the first town I visited during the general election campaign. This is where change began. And that's why I've come back – to talk with you about what we're doing to deliver on that change. I won't talk too long, because I'm looking forward to taking your questions – and because Michelle's probably going to e-mail me to pick up a gallon of milk on the way home.
Now, I don't know whether you've seen the cover of the latest Newsweek magazine on the rack here at Kroger; but the cover says, "The Recession is Over."
I bet you found that news a little startling. I know I did. Now, it's true that we've stopped the freefall. The market is up, and the financial system is no longer on the verge of collapse. We're losing jobs at nearly half the rate we were when I took office six months ago.
So, we may be seeing the beginning of the end of the recession. But that's little comfort if you're one of the folks who have lost their job, and haven't found another. Virginia is weathering this recession better than most states, thanks to the leadership of my friend Tim Kaine, but unemployment here is now over 7 percent, and too many Virginia families are being crushed by health care premiums that have doubled over the past nine years – something I'll address in a minute.
So, we know the tough times aren't over. But we also know that without the steps we have already taken, our troubled economy – and the pain it's inflicting on Virginia's families – would be much worse.
Let's look at the facts.
When my administration came into office, we were facing the worst economy of our lifetimes. We were losing an average of 700,000 jobs per month. It was nearly impossible to take out home loans, auto loans, student loans, and loans for small businesses to buy inventory and make payroll. And economists across the ideological spectrum feared a second-coming of the Great Depression.
At the time, there were some who thought doing nothing was somehow an option. But we knew that what was required was action. So we took steps to end our housing crisis and avert the collapse of our financial system. And less than one month after taking office, we enacted the most sweeping recovery package in history – and we did so without any of the earmarks that waste tax dollars on pet projects.
Now, there's a lot of misinformation out there about the Recovery Act, so here are the facts. To date, roughly a quarter of the recovery plan's funding has been committed, over 30,000 projects have been approved, and thousands have been posted online, as part of an effort to uphold the highest standards of transparency and accountability when it comes to our economic recovery.
The Recovery Act is divided into three parts. One-third of the money is for tax relief that is going to families and small businesses. For Americans struggling to pay rising bills with shrinking wages, we have kept a promise I made to you last year and put a middle class tax cut in the pocket of 95 percent of working families – a tax cut that began showing up in the paychecks of 2.9 million Virginia households about three months ago. We also cut taxes for small businesses on the investments they make.
Another third of the money in the Recovery Act is for emergency relief that is helping folks who have borne the brunt of this recession.
For Americans who were laid off, we expanded unemployment benefits – a measure that has already made a difference for 12 million Americans, including roughly 150,000 folks in Virginia. We are making health insurance 65 percent cheaper for families relying on COBRA while looking for work. And we provided assistance to states facing historic budget shortfalls, saving jobs and protecting essential services. In Virginia, that means 13,000 staff are still working in your children's schools; more than 300 deputy sheriffs are still keeping your communities safe, and state colleges and universities like Virginia Tech haven't had to raise tuition as much as they otherwise would.
The last third of the Recovery Act is for short-term and long-term investments that are putting people back to work and building a stronger economy for the future. We are already seeing the results of these investments, including upgrades to community health centers across Southwestern Virginia and right here in Bristol, allowing them to serve more patients in need of health care. And all across Virginia and this country, we're rebuilding our crumbling roads, highways, and bridges as part of the largest new investment in America's infrastructure since Eisenhower built the Interstate Highway System in the 1950s.
So, it will take time to achieve a complete recovery, and we will not rest until anyone who's looking for work can find a job. But there is little debate that the steps we have taken in the first six months have helped stop our economic freefall.
It has cost some money to do all this, although when I hear critics talk about out-of-control spending, I can't help but remember that those same critics contributed to the $1.3 trillion deficit we inherited when I took office – a debt that's partially a result of two tax cuts that went primarily to the wealthiest few Americans and a Medicare drug program, none of which was paid for.
Now, because of that debt, a lot of people are saying we can't go any further in tackling our problems, and we especially can't do health care. I understand people feel like they have had to cut back, so why do a new government program now? So, I want to explain why the health of America's people and America's economy demand health insurance reform.
But before I do, I just want to report some good news. A key committee of Congress, the Energy and Commerce Committee, reached an agreement on a version of the health insurance plan today. This comes after weeks of tough negotiations, and I commend them for taking this step forward. Because they did, we are a little closer to enacting health insurance reform in America.
And here's what reform will mean for you. First of all, no one is talking about some government takeover of health care. Under the reform I've proposed, if you like your doctor, you can keep your doctor. If you like your health care plan, you can keep it – and that applies to all of you here at Kroger, too. If you're one of the 46 million Americans who don't have coverage today, you will finally be able to get quality, affordable coverage.
But what a lot of the chatter out there hasn't focused on is the fact that if you're an American who already has health insurance, the reform we're proposing will provide you with more stability and security. Because the truth is, we have a system today that works well for the insurance industry, but it doesn't always work well for you. What we need, and what we will have when we pass these reforms, are health insurance consumer protections to make sure that those who have insurance are treated fairly and insurance companies are held accountable.
Let me be specific. We will stop insurance companies from denying you coverage because of your medical history. I will never forget watching my own mother, as she fought cancer in her final days, worrying about whether her insurer would claim her illness was a preexisting condition so it could get out of providing coverage. And I bet many of you have probably heard of someone who was denied insurance because they have a pre-existing condition. That will no longer be allowed.
With reform, insurance companies will have to abide by a yearly cap on how much you can be charged for out-of-pocket expenses. No one in America should go broke because of illness.
We will require insurance companies to cover routine checkups and preventive care, like mammograms, colonoscopies, or eye and foot exams for diabetics, so we can avoid chronic illnesses that cost not only lives, but money.
No longer will insurance companies be allowed to drop or water down coverage for someone who has become seriously ill. That's not right and it's not fair.
And we will stop insurance companies from placing arbitrary caps on the coverage you can receive in a given year or in a lifetime. Whether or not you have health insurance right now, the reforms we seek will bring stability and security that you don't have today – reforms that become more urgent and more urgent with each passing year.
Back in Washington, there's been a lot of talk recently about the politics of health care; about who's up and who's down; and what it will mean for my party or this presidency if health insurance reform is passed or defeated. But here in Virginia, you know this isn't about politics. This is about people's lives. This is about people's businesses. This is about our future.
That's why I'm confident we're going to get this done – because of you. That's why I believe we're going to come together and seize this moment – with your help. That's why I know that this is the year we're going to finally pass health insurance reform for all Americans; and build a stronger, more prosperous, more hopeful future for the United States of America.
Barack Obama, Prepared Remarks at a Town Hall in Bristol, Virginia Online by Gerhard Peters and John T. Woolley, The American Presidency Project https://www.presidency.ucsb.edu/node/286763