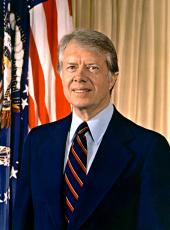 Plains, Georgia Informal Exchange With Reporters on Arrival.
Q. Mr. President, will you expect to be hearing from Secretary Christopher during your stay here?
THE PRESIDENT. Yes.
Q. What are your expectations for his mission?
THE PRESIDENT. Well, Secretary Christopher always carries out his missions successfully, but what the response will be we don't know. He'll certainly do what I've assigned him to do. As a matter of fact, I've already got one report from him this morning on the plane coming back. But we don't know what the Iranian reaction is.
As I said earlier, I think the proposals that have been exchanged through the Algerians are reasonable and a foundation for resolving the differences between us, but I can't predict success. I think that would be a mistake.
Q. You haven't gotten any response yet from Iran?
THE PRESIDENT. No.
Q. Do you cling to hope?
THE PRESIDENT. I always do that.
Q. That's it. Thank you.
THE PRESIDENT. I appreciated your invitation to come to your house, although I just got it last night. Jody and Susan told me about it. I wish we—if we'd known earlier, we could have possibly—
Q. We had a small group of the old regulars.
THE PRESIDENT. I read your series, too. That's pretty accurate.
Q. Have a good day.
THE PRESIDENT. Thank you.
Note: The exchange began at 11:10 a.m. on a baseball field near the town.
Jimmy Carter, Plains, Georgia Informal Exchange With Reporters on Arrival. Online by Gerhard Peters and John T. Woolley, The American Presidency Project https://www.presidency.ucsb.edu/node/250486