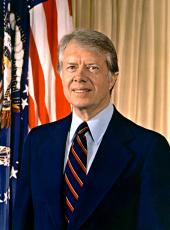 Plains, Georgia Informal Exchange With Hugh Carter, Sr., at Mr. Carter's Antique Shop.
MR. CARTER. On this farm thing, you know, they came over here; couldn't get anybody to give them a welcome. I went over there.
THE PRESIDENT. I am glad you did. I mentioned you in my press conference.
MR. CARTER. I know you did. I heard it. That's great. But, you know, I knew you were for them, but it was hard for me to--they were a little angry, you know. They wanted you down here. They started shouting, you know, "We want Jimmy. We want Jimmy. Where's Jimmy?"
THE PRESIDENT. [Inaudible]--going to hear about the letter to the farmer. I know they have got the headlines in the Columbus paper. I just wonder if they got it in the Atlanta paper. Have you looked at it?
MR. CARTER. I haven't gone through this yet. I just got it. You want to look at it?
THE PRESIDENT. No, I don't--there it is. I just wanted to be sure it was covered.
I got a letter from a woman in Baxley, a widow, and she and her young son run the farm. So, I just sent her--the paper says a seven-page telegram explaining the way I felt about the farm program.
The new bill that we passed didn't go into effect until October, and it will take care of a lot of our problems. Of course, we have still got a serious problem when we don't make a crop. And land prices, as you know, have leveled off. They were going up 10 to 15 percent a year, which kept prices going up. They have kind of leveled off. And there's also, you know, farmers have got a tremendous capital investment, much more than the average businessman.
MR. CARTER. Well, that's true. Another thing, you know, Jimmy, some of them need to keep their cool. You know, a lot of them are getting mad, and I think this is wrong.
THE PRESIDENT. I think they had some violence in Texas.
MR. CARTER. I know. I saw it on TV last night.
THE PRESIDENT. As long as the farmers let consumers know they have got a problem, that's good. But if they ever turn the consumers against them, they will be worse off than they were before. What's best for the consumers is to have the family farmers strong and have a sound financial base to keep prices from fluctuating so wildly.
Note: The exchange began at approximately 8:45 a.m.
Jimmy Carter, Plains, Georgia Informal Exchange With Hugh Carter, Sr., at Mr. Carter's Antique Shop. Online by Gerhard Peters and John T. Woolley, The American Presidency Project https://www.presidency.ucsb.edu/node/242689