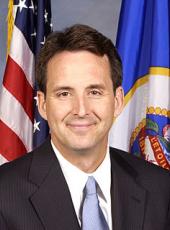 Pawlenty Campaign Press Release - Wall Street Journal: Obama's Worst Week, Pawlenty's Best
The 2012 election is going to be fought over how we get economic growth.
By Daniel Henninger, Wall Street Journal
If next year the American people pull the plug on the Obama presidency, mark down the past week as the beginning of the end . . . and what looks like the real beginning of Tim Pawlenty's candidacy.
Incumbency isn't merely a function of political inevitability but of the fact that a presidency commands potent tools of self-restoration. Barack Obama's decision to kill Osama bin Laden was one such weapon. But we now see that this welcome May Surprise was insufficient to thwart the one force bigger than the American presidency—the U.S. economy. As of this week, it's looking like a long mudslide through the economy to November 2012. ...
No wonder Tim Pawlenty is smiling. Amid a news cycle whose message is "nothing's working," Mr. Pawlenty delivered a major speech on economic policy whose title could have been: All the Things Barack Obama Has Not Tried to Do to Lift the Economy and Never Will.
The 2012 election is going to be fought over how we get economic growth.
Whether Gov. Pawlenty's prescriptions—dramatically lower individual and corporate taxes, zero taxes on capital gains and dividends, sunset provisions for federal regulations and a growth-rate target of 5%—are provable as solutions is politically beside the point at this moment. As substantive brand differentiation, the Pawlenty speech was a success.
There is, however, a serious policy implication inside the Pawlenty proposals. We are heading toward an election fought over the economy. That's good because ultimately this means the subject is growth. The one consensus that exists across the political spectrum is that strong economic growth eases many problems—from the entitlement burden to the tragedy of high youth unemployment.
The battle will be fought over economic growth and how we get it—Obama's way or something close to the opposite of Obama's way. On one hand is Barack Obama's government-led "investment" mix, embedded with spending raised to 24% of GDP. On the other is the alternative GOP vision, which is starting to gel.
Read the full article here
Tim Pawlenty, Pawlenty Campaign Press Release - Wall Street Journal: Obama's Worst Week, Pawlenty's Best Online by Gerhard Peters and John T. Woolley, The American Presidency Project https://www.presidency.ucsb.edu/node/296721