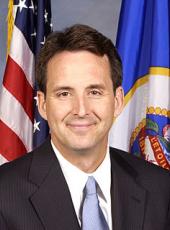 Pawlenty Campaign Press Release - Wall Street Journal Editorial: Pawlenty's Growth Marker
Wall Street Journal Editorial - Pawlenty's Growth Marker
Among GOP Presidential contenders, Tim Pawlenty is offering the most ambitious reform agenda so far, and his economic address yesterday continued the trend. While details remain to be filled in, the former Minnesota Governor is rightly focusing on a growth revival that ought to define the 2012 campaign.
Most notable in symbolic political terms, Mr. Pawlenty proposed what he called the "big, positive goal" of growing the U.S. economy by 5% a year over the next decade. His policy mix is centered on building a durable expansion and boosting middle-class incomes, and his speech was notable for its optimism, avoiding the austerity temptation that traps many Republicans.
A Pawlenty spokesman told us the 5% target is realistic and achievable, and it's true that the economy grew 4.9% on average between 1983 and 1987, and nearly 4.7% between 1996 and 1999. Yet such long booms are rare in developed economies and we can't recall one that lasted 10 years.
The goal is still worthy as an aspiration, especially amid the current recovery that should be far stronger after a long and deep recession. The recovery has reached 5% only in the last quarter in 2009, and that was mostly the result of businesses rebuilding inventories that had been cut to the bone. Growth has since slowed to 2% or below, failing to reach cruising speed despite (or in our view because of) the entire liberal playbook of government spending, temporary and targeted tax incentives, new entitlements and regulation, and monetary reflation.
Mr. Pawlenty would extricate the economy from this government cul de sac by enhancing the incentives to work, invest and create jobs. He sketched out yesterday a Reagan-like tax reform of lower rates for individuals and businesses. The first $50,000 in individual income ($100,000 for couples) would be taxed at 10% and after that a top marginal rate of 25%. This would give a big lift to the small and medium-sized businesses that file under the individual tax code and create most new jobs. He'd also zero out taxes on capital gains, dividends and estates.
Read the full article here
Tim Pawlenty, Pawlenty Campaign Press Release - Wall Street Journal Editorial: Pawlenty's Growth Marker Online by Gerhard Peters and John T. Woolley, The American Presidency Project https://www.presidency.ucsb.edu/node/296716