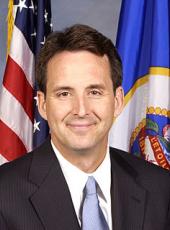 Pawlenty Campaign Press Release - Seven Candidates; 140 Characters: Tweeting Toward the White House
By Alex Roarty, National Journal
Tim Pawlenty was debating his GOP rivals on two stages on Monday night: One in New Hampshire and one on Twitter.
Take, for example, a 9:30 p.m. post to the short text-messaging service, made in the thick of the debate, from his official account @timpawlenty. "I'm the most pro-life candidate in the race," the tweet said. "I haven't just talked about it, I've done it." The comment was quoting a comment the ex-Minnesota governor had just said during the debate.
But his campaign tweets didn't just parrot Pawlenty. His spokesman, Alex Conant, spent much of the debate retweeting favorable comments from conservative pundits and mainstream journalists. His tweets, in turn, were seen by thousands of followers, including many influential pundits and journalists.
Pawlenty's campaign was just one of the seven represented on stage on Monday night that aggressively made their cases over the relatively new digital medium, another sign of how influential the five-year-old social-media service has become. And as the primary and then general-election campaigns ramp up, it's poised to become to become an even more powerful force in what will be the first Twitter presidential election.
"2012 is the first presidential race where Twitter really has a massive role," said Vincent Harris, a Republican strategist and social media consultant.
Twitter's rise is a tactical challenge for campaigns: How do they use a service that could, theoretically, give everyone on the campaign a bullhorn and gives candidates and staffers alike a chance to confront rivals and opponents in full view of the public and media? It's a challenge that could provide ripe rewards for adept campaigns, but also poses potential perils.
In a race that's up for grabs, any advantage could be important. For whichever campaign best and most quickly learns to handle Twitter, that could be a small but significant edge.
One thing is for sure: No campaign can afford to be without a Twitter account.
Read the full article here.
Tim Pawlenty, Pawlenty Campaign Press Release - Seven Candidates; 140 Characters: Tweeting Toward the White House Online by Gerhard Peters and John T. Woolley, The American Presidency Project https://www.presidency.ucsb.edu/node/296686