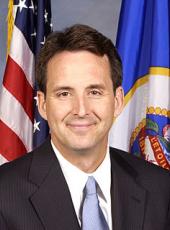 Pawlenty Campaign Press Release - Leaders of Florida Legislature Join Pawlenty for President
Gov. Pawlenty Welcomes Will Weatherford, Chris Dorworth and Richard Corcoran
The Pawlenty for President campaign announced today that Florida State Representative and future House Speaker Will Weatherford has endorsed Gov. Tim Pawlenty for president and will serve as the co-chair of Pawlenty's Florida campaign. Representatives Chris Dorworth and Richard Corcoran will also join Pawlenty for President as regional chairmen.
"Rep. Weatherford is an extraordinary leader who has shown that he has what it takes to unite the conservative party in Florida," Gov. Pawlenty said. "Both voters and his peers recognized his talents by electing him Speaker-Designate of the Florida House of Representatives. Will Weatherford is a natural born talent, and I look forward to him leading my campaign to victory in the Sunshine State."
"Our Country needs a president who can achieve results not just deliver speeches. I firmly believe Tim Pawlenty is that leader," said Weatherford. "Tim Pawlenty oversaw significant, conservative changes in a traditionally blue state. His strong record of results amidst challenging circumstances proves that he is ready to lead our Nation."
Weatherford added, "Tim Pawlenty has the ability to get our economy back on the right track and restore the promise of America. I am 'all in' as an enthusiastic and motivated member of Team Pawlenty."
Will Weatherford grew up in a family of nine siblings in Pasco County, Florida. He worked as an aide to former House Speaker Allan Bense before his election as the Representative for District 61 in the Florida State Legislature. He was first elected in 2006 and re-elected in 2008. He has been designated to serve as the Speaker of the House for the 2012-2014 legislative term. Will Weatherford resides in Wesley Chapel, Florida with his wife Courtney and two young daughters.
Reps. Dorworth and Corcoran, the two men chosen by the caucus to serve as speaker upon conclusion of Speaker Weatherford's term, have also endorsed Gov. Pawlenty.
"Gov. Pawlenty does not just talk about getting things done; he has the fortitude to make real conservative change and reign in government spending," said Dorworth.
"I am proud to join Gov. Pawlenty's team and am excited to help introduce him to Floridians," said Corcoran. "Familiarity with his record will ensure a Pawlenty victory."
Chris Dorworth has represented District 34 since 2007. Before being elected to the Florida House of Representatives, he served as Seminole County Chairman of the Bush/Cheney 2004 re-election campaign. Having earned the reputation as a dependable conservative, Governor Jeb Bush appointed Chris to Seminole Community College's Board of Trustees.
Richard Corcoran was elected to the House of Representatives after winning the Republican nomination for the State House of Representatives, District 45 on August 24, 2010. Before that, he served as an advisor to three Speakers of the Florida House: Daniel Webster, Tom Feeney, and Marco Rubio. Richard also served as Marco Rubio's Chief of Staff.
Tim Pawlenty, Pawlenty Campaign Press Release - Leaders of Florida Legislature Join Pawlenty for President Online by Gerhard Peters and John T. Woolley, The American Presidency Project https://www.presidency.ucsb.edu/node/296618