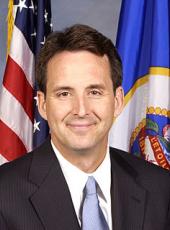 Pawlenty Campaign Press Release - Kurtenbach Steps Down from RPI Post to Endorse Pawlenty, Serve as an Iowa Campaign Co-Chair
Former state representative Jim Kurtenbach of Ames has stepped down as co-chair of the Republican Party of Iowa to endorse former Minnesota Gov. Tim Pawlenty's 2012 presidential bid and become a state campaign co-chair.
"I feel very strongly that Governor Pawlenty is the right leader for our country," Kurtenbach said today. "I know it's an unusual step to resign as party co-chairman, but I want to be very actively involved in supporting Tim Pawlenty because the stakes are so very high in the coming election."
Kurtenbach, who served two terms in the Iowa House of Representatives, was elected RPI co-chair in January 2009 and re-elected earlier this year. An expert in the field of financial accounting with extensive experience in information systems, he is the associate dean for administration at the Iowa State University College of Engineering. In that role, Kurtenbach guides the college's information technology, distance education, personnel, and financial operations.
Kurtenbach is also an associate professor of accounting at Iowa State. In addition to his experience as a faculty member, Kurtenbach has served as chief financial officer for a materials and chemicals company, managing its transition from an investor-supported organization through sale to an international chemical company. He has also served as the chief executive officer and board member for an animation firm that specializes in scientifically accurate portrayals for courtroom litigation and biotechnology applications, and held officer positions in the construction industry.
"Governor Pawlenty has a conservative record of getting things done at the state level by focusing on what's important – a trait that President Obama lacks," Kurtenbach said. "Tim Pawlenty is a solid conservative who has proven that he has a broad appeal to fiscal and social conservatives, Tea Party activists and libertarians, common-sense independents and Reagan Democrats. He can beat President Obama, bring this country back together and get us going in the right direction again."
Tim Pawlenty, Pawlenty Campaign Press Release - Kurtenbach Steps Down from RPI Post to Endorse Pawlenty, Serve as an Iowa Campaign Co-Chair Online by Gerhard Peters and John T. Woolley, The American Presidency Project https://www.presidency.ucsb.edu/node/296613