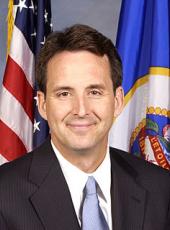 Pawlenty Campaign Press Release - Iowa 2012 GOP Presidential Power Rankings: Life after Mike Huckabee
"Although there have been plenty of comings and goings over the past two weeks, the one event that had the largest impact on Iowa politicos was an official announcement from Mike Huckabee that he would not be a 2012 contender. The news, combined with perceived negatives by establishment candidates, allowed for additional forward momentum in the second tier.
In this sixth edition of The Iowa Independent's 2012 Presidential Power Rankings, the panelists have begun to see the field of candidates solidify. For the past two weeks, the panelists have discussed and given rankings to a baker's dozen of candidates, but this week concentrate on only eight.
In addition to discussion on where Huckabee's previous Iowa support will move, panelists were also heavily engaged in remarks made by former U.S. House Speaker Newt Gingrich on a GOP proposal to overhaul Medicare and former Massachusetts Gov. Mitt Romney on his previous support of health care reform in Massachusetts. Although there were exceptions, most panelists viewed the remarks as being detrimental at least in the short term.
Here's how our panelists believe the Iowa caucuses would end if they were held tonight:
1.Tim Pawlenty — The former governor of Minnesota has been a mainstay in our rankings since its inception due to his seemingly constant presence in the Hawkeye State and the fact that he has surrounded himself with key staff members and advisers who are highly respected by Iowans. There is little wonder, in a time where our panelists have uncertainty about the field, they would once again return to Pawlenty overwhelmingly as the person who would benefit the most if the caucuses were held tonight.
"I think there is a stability factor with TPaw," one of our panelists said. "He has consistently been here, consistently making noises that he wants to be the next President. It's also a bonus — in light of what happened with Donald Trump — that he hasn't personally screwed over the state party. In contrast, TPaw's 'nice guy' persona has gone from boring to totally appealing."
Another panelist adds that Pawlenty "gets a boost" for this edition because of his anticipated plans to formally announce his candidacy in Des Moines today.
"He was talked about on a very short list of VP candidates for John McCain in 2008, and being not only a two-term governor, but one from a neighboring state, naturally attract Iowans' interest. He'll keep doing groundwork, much like how Barack Obama did in 07, and while he may not win, he'll be in the top three of the Iowa caucus results," said another panelist while noting that it isn't just GOP buzz that has many believing Pawlenty is the guy to beat."
Tim Pawlenty, Pawlenty Campaign Press Release - Iowa 2012 GOP Presidential Power Rankings: Life after Mike Huckabee Online by Gerhard Peters and John T. Woolley, The American Presidency Project https://www.presidency.ucsb.edu/node/296593