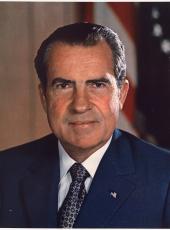 Partial Transcript of the Remarks of the Vice President, Lockheed Airport, Burbank, CA
Now, let me tell you what I think you should have in mind - you, your friends, and all of those with whom you work - as you judge how you should vote on November 8.
All of you who recall our last television debate will recall we had a few disagreements, and one toward the last in particular will be of interest.
You remember the question was raised as to whether in an election this year we should be thinking primarily of the party or of the man, and coming down to the simple answers, Senator Kennedy suggested it was the party that was important, and my answer was the one that I gave then and that I will give to you again now. I say that in this election, 1960, for the Presidency of the United States, the issues are so important, the need for finding the best man, regardless of party, is so important, that what should come first is not our party, but America, the Nation, and that is the way we present our case.
And I present the case for Cabot Lodge and myself on that basis. We say: Examine our experience and our background and qualifications, and we ask for the support of the American people only if you believe we are the ones the Nation needs, only if you believe, regardless of your party, that this is what America needs, and I realize that in 1952 and 1956 millions of Democrats joined with Republicans and Independents to elect our ticket, and I predict this year, as I see what is happening in California, in New York, in Pennsylvania, in the South and the North and the East and the West again that millions of Democrats and Independents will join with Republicans in electing our ticket, because they think it is the best for the Nation and for America in this critical period.
I would like to have the time to tell you all the things that I believe we can and should do for this Nation in the next 4 years. I will summarize in just a word: First, we recognize that the major issue overriding all the rest is that the next President will have the responsibility of keeping the peace without surrender for America and for the world.
Now, it isn't appropriate for me to comment on my own qualifications in that respect, but I do have a right to say something about my running mate, and I will say this: That I don't believe that any man in the world has had more experience or could have done a better job than he has in representing us at the United Nations and in fighting for the cause of peace and freedom.
And I say to you that we will work together, work together in that cause.
Now, what can you expect from us? And this I want you to listen to very carefully. We are men who know what peace demands in this age. We are men who know Mr. Khrushchev. We have sat down across the table from him. We've had the opportunity to know the ruthless fanaticism which dominates his every move, and, therefore, that means that we will insist that America have the strength militarily, the strength economically, the strength in all areas, that we will be able to represent America abroad and never be in a position where we are weaker than those who threaten peace and freedom, and I pledge to you that America will continue to be, whatever the cost, the strongest nation in the world, and this all Americans want.
We will couple that strength with seeing that our economy moves forward, moves forward so that Mr. Khrushchev can never realize his boast of catching us or passing us, and he never will, believe me, provided we remain true to the great principles that made America the country that it is today.
And also I tell you that we will couple our strength, military and economic, with something else. We will couple it with a firm diplomacy. We will always go the extra mile, as President Eisenhower has, to negotiate for peace; but we will remember, in dealing with this man, that the road of concessions, making a concession without getting one in return, is not the road to peace. It is the road to surrender or the road to war.
And whether it is Quemoy or Matsu in the Pacific, or whether it is expressing regrets at Paris, I say we're not going to have any woolly, fuzzy thinking in the next administration with regard to what the United States is doing.
And I say to you, too, that I say all these things because I know this is the road to peace, and I know that those who advocate the other policies, well intentioned as they may be or intended to be, will make the mistake of giving in on these great principles, or making concessions, and will not gain what they want or think they want. They will only whet the appetite of the dictator, and it will lead us down that road that we all do not want to travel.
And, so, these things we pledge to you. And then the last thing I would say is more of a personal note. I suppose all of you who are here - and there are many in this audience that Pat and I know personally; we've campaigned this great valley, all over this State, and there must be literally thousands whom we've shaken hands with or who have worked in other campaigns - I suppose some of you wonder what you think about when you travel over the country, and I would like to tell you what I thought about tonight.
We looked down on Los Angeles, one of those clear, smogless nights. We saw the lights of all the homes, and you know what I thought about We thought of the future of all the children in those homes. We thought of the responsibility of the next President of the United States to see that they have a better life than even we have had, to see that they grow up in a world of peace and freedom, to see that we hand on to them our heritage even better than we received it from our fathers. This we thought of, and then, looking back over the campaign, there are memories, memories which will stay with us all our lives.
I remember a little girl in the lobby at 8 o'clock in the morning in --------, Nebr. As we were coming down - she was about 8 years of age - she came up to me and she said, "Mr. Nixon, I hope you make President." And she says, "You know what I do? I make a wish for you every time I go under a bridge."
And I think of all the little girls or little boys making a wish every time they go under a bridge, the most precious thing they could give up, because they have confidence and faith in what they believe we stand for.
I remember a woman who had just celebrated her hundredth birthday. She was in a wheelchair. I shook hands with her and, speaking in a very clear voice, out in Wisconsin, she said to me, "Mn Nixon, this is probably the last time I will ever vote. I think it is the most important vote I will ever cast. I am casting it for you."
What do you think? What does a man think when he hears things like this? I'll tell you what you think. We remember the people from whom we came. We remember the responsibilities that we have. We think of the really great privilege it is to live in this country, and I can only say to you this: I would like to declare: "This is a time for greatness and I am the great man of the times," but I cannot say that. Greatness is not something that comes from a man's ambition. Greatness is not something that is written on a campaign billboard. Greatness is something that comes from people in a free country, and only as a leader comes from those people, only as he represents their highest aspirations, their highest ideals, their greatest hopes, can he hope even to be worthy of the name great.
And I only say to you, my friends, here in California, that I hope that in these months ahead, I can represent those ideals that are deepest in your hearts, the ideals that have made America the great country that it is. If I can do this, then I will be worthy of your trust - and that is my deepest hope and deepest prayer.
Thank you very much.
Richard Nixon, Partial Transcript of the Remarks of the Vice President, Lockheed Airport, Burbank, CA Online by Gerhard Peters and John T. Woolley, The American Presidency Project https://www.presidency.ucsb.edu/node/273842