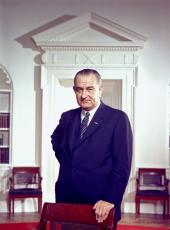 Outline of Remarks at a Joint Meeting of the President's Advisory Committee on Labor-Management Policy and the Cabinet Committee on Price Stability
Even with the best and wisest fiscal-monetary policies, rising prices and costs are a challenging problem. There is no easy solution. We must resist the temptation to live with a little bit of inflation, because it won't remain only a little bit once everyone comes to expect steady inflation. We cannot afford to solve the inflation problem by deliberately weakening the economy and producing the creeping stagnation of periodic recessions. Such remedies are worse than the disease they are supposed to cure.
All Western industrial nations face this major economic problem. Many have turned to a bewildering array of policies designed to hold prices and wages in check. Some countries are relying on measures which would be unacceptable to America--violating the spirit of free enterprise and free collective bargaining. And none has licked the problem. Indeed, our price record over the past 8 years is better than that of any other free nation.
To achieve noninflationary prosperity, we must follow the route of business-labor-government cooperation. My Cabinet Committee on Price Stability is exploring new ideas and initiatives to correct defects in our economic performance that make prices rise. It seeks your recommendations and advice. We need to develop and to win general acceptance of equitable and reasonable principles of restraint to guide wage and price decisions. Here too we need your leadership and initiative.
Now that we have succeeded in achieving and maintaining prosperity, we must cope with our biggest remaining overall economic challenge--to couple that prosperity with price stability. I intend to advise my successor and the Congress on the steps needed to meet that challenge. I ask for the advice and counsel of the Labor-Management Committee on this crucial issue.
Note: On May 27, 1968, the President received a memorandum from the Chairman of the Council of Economic Advisers on inflationary trends in the economy (4 Weekly Comp. Pres. Docs., p. 858).
As printed above, this item follows the text released by the White House Press Office.
Lyndon B. Johnson, Outline of Remarks at a Joint Meeting of the President's Advisory Committee on Labor-Management Policy and the Cabinet Committee on Price Stability Online by Gerhard Peters and John T. Woolley, The American Presidency Project https://www.presidency.ucsb.edu/node/237556