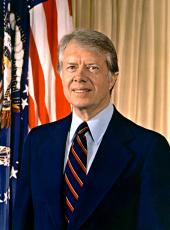 Outer Continental Shelf Lands Act Amendments of 1978 Statement on Signing S. 9 Into Law.
I am signing into law today S. 9, the Outer Continental Shelf Lands Act Amendments of 1978.
Since its enactment in 1953, the Outer Continental Shelf Lands Act has provided basic authority for Federal management and development of the resources of the Outer Continental Shelf (OCS). During that time, over 16 million acres have been leased for oil and gas exploration and development. Oil and gas production from the OCS accounted for approximately 10.2 and 18.7 percent, respectively, of total domestic production of these vital resources in 1977. As part of this Nation's long-term energy program, significant additional areas are on the planning schedule for possible leasing over the next several years.
As the pace of OCS exploration and development activity has accelerated in recent years, growing concern has been expressed over its effects on coastal areas as well as the degree of competition for OCS leases within the energy industry. There has been uncertainty and controversy over the rate and location of OCS leasing and development, and States and localities have sought a greater voice in Federal OCS management. As the result of several years of hard work by the Congress, the States, the administration, industry and labor, and various concerned citizens groups, S. 9 is designed to provide a new and more effective balance between these concerns and the Nation's need for timely energy development. I am very pleased to sign these much-needed amendments into law.
The bill mandates significant changes in existing law to improve environmental safeguards, to promote greater cooperation between the Federal Government and States and localities, to reduce barriers to OCS activity on the part of small- and medium-sized energy firms, and to ensure safe working conditions for those employed on the OCS. I am convinced that by reducing the great uncertainty associated with many aspects of the OCS program in recent years and by placing a proper emphasis on environmental protection and other important objectives, this legislation will provide the needed framework for moving forward once again with a balanced and well-coordinated leasing program to assure that OCS energy resources contribute even more to our Nation's domestic energy supplies.
I am also pleased that the Congress has adopted a liability and compensation system for cleanup costs and damages caused by OCS oil spills which is generally in line with the more comprehensive legislation previously proposed by my administration. However, I continue to urge expeditious congressional action on more comprehensive legislation (H.R. 6803) which would appropriately extend coverage to virtually all oil pollution in our coastal and internal waters.
Among the many provisions I fully support there are a few about which I am concerned. First, there is a substantial increase in the annual appropriation authorization for coastal energy impact formula grants to States affected by OCS activities. While this is an essential program and I support it, in the annual appropriation process I will have to carefully weigh budget limitations and the very real needs which do exist in coastal areas affected by OCS development. Second, as outlined in my special message to Congress of June 21, 1978, I have strong constitutional and policy objections to the reservation of authority by the Congress to veto certain executive branch actions-in this case, decisions to permit the export of OCS oil and gas and to utilize lease bidding systems other than those specifically described in S. 9. I intend to treat both of these provisions as "report and wait" requirements.
Aside from these concerns, however, I applaud the passage of S. 9, which is an important part of our energy program. I congratulate all those who contributed to the passage of this important legislation, particularly Chairmen Jackson and Murphy and the other members of the Senate and House committees who helped fashion this bill. Work began long before I came into office, but I am proud to participate in bringing this important effort to a conclusion.
Note: As enacted, S. 9 is Public Law 95-372, approved September 18.
Jimmy Carter, Outer Continental Shelf Lands Act Amendments of 1978 Statement on Signing S. 9 Into Law. Online by Gerhard Peters and John T. Woolley, The American Presidency Project https://www.presidency.ucsb.edu/node/243108