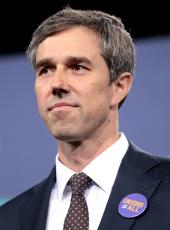 O'Rourke Campaign Press Release - Beto O'Rourke Raises $9.4 Million in Only 18 Days as Grassroots Support Continues to Fuel His Campaign
O'Rourke remains the highest per-day raising candidate and with a cross-country groundswell of small-dollar support, 98% of contributions were below $200, 99% of fundraising came online and a majority of donors over the campaign's 18 days did not give to Beto during his record-breaking Senate campaign
EL PASO, TEXAS -- Beto O'Rourke raised $9.4 million from 218,000 contributions made during the first 18 days of his grassroots campaign for president. Raising an average of $520,000 per day without taking a dime from PACs, special interests, lobbyists and corporations, O'Rourke continues to be the highest per-day raising candidate in the Democratic primary.
"In just 18 days, people in every state and from every walk of life have organized in homes, contributed a few bucks online and united together to show that the power of people is far greater than the PACs, corporations and special interest that have captured, corrupted and corroded our democracy for far too long," said O'Rourke. "Not only is this a sign of our grassroots strength during the first two weeks of our campaign but it is a sign of what's possible when you put your full trust in the people of this country."
With a reliance on small-dollar donations and with teachers across the nation as the top contributor by occupation, 98% of the contributions made during the 18-day period were below $200. The average donation was $43.
A full 99% of O'Rourke's fundraising came online as he traveled 2,366 miles to visit nine states and hold 59 events with those he wants to serve.
Signaling surging grassroots momentum and a continued groundswell of support in every state and territory, the majority of donors over the 18 days never gave to Beto's record-breaking U.S. Senate campaign.
Today's news comes as O'Rourke returns to Iowa for his second trip to the state since announcing his candidacy for president on April 14. His four-day drive through the state will include nearly two dozen events. O'Rourke has now visited ten states and the District of Columbia as he attended events with voters in Iowa, Wisconsin, Michigan, Ohio, Pennsylvania, New Hampshire, South Carolina, Nevada, Texas, Washington, D.C. and New York.
O'Rourke officially kicked off his campaign on Saturday with rallies in his hometown of El Paso, Houston and Austin. More than 1,000 organizing parties across the country tuned in to watch. In his remarks, he shared his unifying vision for bridging divides and bringing together Americans from all walks of life to overcome the greatest set of challenges this country has ever faced.
Beto O'Rourke, O'Rourke Campaign Press Release - Beto O'Rourke Raises $9.4 Million in Only 18 Days as Grassroots Support Continues to Fuel His Campaign Online by Gerhard Peters and John T. Woolley, The American Presidency Project https://www.presidency.ucsb.edu/node/365493