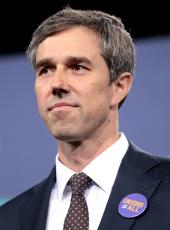 O'Rourke Campaign Press Release - Beto on Health Care: Every American Must Have Access to Universal, Guaranteed, High-Quality Health Care
MIAMI, FL - On Tuesday, Beto O'Rourke reinforced his commitment to reduce out of pocket health care costs, while ensuring every American has access to universal, guaranteed, high-quality health care as quickly as possible so they can afford their medication, see a family planning provider, and live to their full potential.
Beto's commitment to ensuring every American has access to high quality, affordable health care builds off his record in Congress fighting to protect the Affordable Care Act and standing up for women's reproductive rights. Beto has advocated for expanding access to health care by ensuring every American without health care is enrolled in Medicare, and those with insufficient care or those who can't afford copays, premiums or deductibles can also enroll in Medicare. But if someone has employer-sponsored insurance and wants to keep it, they can do so.
Beto has also released a plan to mobilize the full force of the federal government to protect and expand women's reproductive rights. The plan includes repealing Hyde and eliminating the Trump Administration's gag rule, so every woman has access to safe and legal abortion - no matter their income or zip code. He would also work to pass legislation that affirms women's constitutional rights to make their own health care decisions and ban medically-unnecessary TRAP laws across the country.
Beto has repeatedly called for a health care system that serves the needs of all Americans and believes Medicare for America provides the surest, quickest way to expand health care coverage for some of the most vulnerable communities.
Beto O'Rourke, O'Rourke Campaign Press Release - Beto on Health Care: Every American Must Have Access to Universal, Guaranteed, High-Quality Health Care Online by Gerhard Peters and John T. Woolley, The American Presidency Project https://www.presidency.ucsb.edu/node/365485