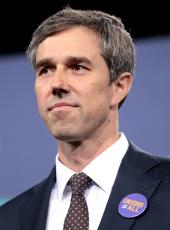 O'Rourke Campaign Press Release - Beto Closes Debate with Call for A New Kind of Politics
Beto cites inspiration from his daughter, climate activists, and students leading the March for Our Lives rallies, to meet this moment and heal a divided nation.
MIAMI, FL - At the first Democratic Presidential Debate, Beto's closing argument articulated an urgent need to embrace a new kind of politics — affirming that the old ways of running campaigns won't work if we want to confront the defining challenges of our time. Beto called for writing no one off and leaving no one behind, and making sure all of us take an active role in our democracy. He compared the movement he wants to build in this campaign to the energy and attention young people have brought to combating climate change and ending the epidemic of gun violence in our schools and workplaces.
Beto shared that his daughter, Molly O'Rourke, turned eleven-years-old this week, and has, along with his two sons, Ulysses and Henry, been a constant source of inspiration throughout the campaign. At a moment when kids their same age are sleeping on concrete floors, separated from their families in our name, Beto noted that we must act with the urgency demanded by a new generation of Americans. And starting with building the largest grassroots campaign in history, he outlined his vision for how we can all come together to meet this moment:
"I'm on this stage for children across this country, including some, Molly's same age, separated from their families, sleeping tonight on concrete floors under tinfoil blankets. To do right by them, to meet the challenges we face, we can't take the same old approach.
"It's going to take a new kind of politics.
"One driven by the urgency of the next generation: Climate activists fighting for their future, and for everyone's. Students marching for their lives, and for all of ours."
Beto O'Rourke, O'Rourke Campaign Press Release - Beto Closes Debate with Call for A New Kind of Politics Online by Gerhard Peters and John T. Woolley, The American Presidency Project https://www.presidency.ucsb.edu/node/365484