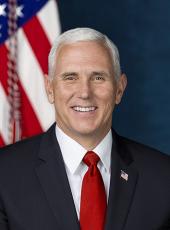 Opening Remarks by the Vice President at a Meeting of the National Space Council
THE VICE PRESIDENT: Well, thank you all for being with us. Thanks to the members of the National Space Council. And why don't you join me in thanking the President one more time for his leadership and hospitality today. (Applause.)
We're honored to be at the White House today and the presence of the third meeting of the National Space Council here at the White House, surrounded by members of our Council, as well as by members of our User Advisory Group and other industry leaders.
And our distinguished panelists, I trust, is a reflection of the priority that you just heard in the President's words that the President and our entire administration are placing on American leadership in space.
I do want to say thank you again to all of the distinguished guests who are here, to members of the User Advisory Group, but also to distinguished members of Congress who have already been introduced. We are grateful for your leadership and grateful for your presence, but not surprised by your presence today. And so join me in thanking these members of Congress who have already been introduced, will you? We appreciate them. (Applause.) Thank you.
We have a great lineup of panelists today -- three panels that will all be working under the umbrella of our conversation about the moon, Mars, and worlds beyond. And the focus today will be how we continue to move forward to permit greater private development of space, as you just heard the President reflect on, but also how we revive and continue to expand human exploration in space with American leadership and American platforms.
We're going to begin with reports from members of the National Space Council. And to all the Cabinet members who are with us today, I want to thank you for the efforts that you've made. And to all the agencies that are represented here, it represents the very best of the kind of teamwork that the President relies on in this administration, and we're grateful for it.
With that -- to kick things off -- Secretary Ross, if you could provide us with an update on the work at the Commerce Department implementing the President's Space Policy Directive-2. We'll begin there.
Mike Pence, Opening Remarks by the Vice President at a Meeting of the National Space Council Online by Gerhard Peters and John T. Woolley, The American Presidency Project https://www.presidency.ucsb.edu/node/335715