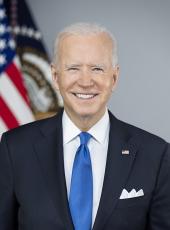 Op-Ed by the President Ahead of Labor Day
Milwaukee Journal-Sentinel (Opinion): President Biden: Bidenomics is working in Wisconsin. We're investing in American workers.
Labor Day honors the dignity of the American worker and recognizes that Wall Street didn't build America
[President Joe Biden, 9/3/23]
Three weeks ago, at a clean energy factory in Milwaukee, I met an IBEW electrician who builds and repairs America's growing fleet of wind turbine generators. He said, "In America, with hard work and a little faith, anything is possible."
He embodies the spirit of Labor Day, which honors the dignity of the American worker and recognizes that Wall Street didn't build America, the middle class built America, and unions built the middle class.
We've seen that spirit throughout our history, especially over the last three years as we've been rebuilding our economy from the middle out and bottom up, not from the top down. Our plan, called Bidenomics, is working.
I'm proud of the historic laws I've signed that are leading our recovery and resurgence. More than 13 million jobs, including 800,000 in manufacturing. Unemployment below 4 percent for the longest stretch in 50 years. More working-age Americans are employed than at any time in the past 20 years. Inflation is near its lowest point in over two years. Wages and job satisfaction are up. Restoring the pensions of millions of retired union workers – the biggest step of its kind in the past fifty years.
But the real hero of our story is the American worker. It's nurses and homecare workers who put on protective gear and cared for our loved ones. It's truck drivers and grocery workers who get up every day to keep our shelves stocked. It's bricklayers, steelworkers and machinists who are restoring American leadership in the industries of the future.
We've attracted over $500 billion in private investment to make clean energy technology, semiconductors and other innovations here at home – creating good-paying jobs that don't require a four-year degree. Under decades of trickle-down economics, we let jobs and factories go overseas, and China started to dominate manufacturing. Not anymore because we've investing in America. Those jobs are coming home and factories are being built here.
But there's more to do. Here's what else we are doing for America's workers.
The Department of Labor is proposing a rule that would extend overtime pay to as many as 3.6 million workers. An honest day's work should get a fair day's of pay. A mom in Wisconsin who makes 37,500 a year and has sometimes worked 60-hour weeks could now be eligible to earn time and a half for all the time she works in a week over 40 hours. She can support her daughter and family.
While Congressional Republicans block increasing the minimum wage and attack unions, I will continue to make progress where I can. Last year, I signed an executive order requiring contractors who are doing business with the federal government to pay a minimum $15 an hour for hundreds of thousands of workers. This summer, we updated what's called Davis-Bacon prevailing wages for the first time in 40 years. That means all those jobs we're creating with federal investments will pay a prevailing wage you can raise a family on. I continue to call on Congress to pass the Richard L. Trumka Protecting the Right to Organize (PRO) Act, to make it easier for workers to organize and join a union and bargain collectively for better pay, benefits, and conditions.
Additionally, a new report from the Treasury Department this week provides the most comprehensive look ever at how unions are good for America. It definitively concludes that unions help raise incomes; increase homeownership and retirement savings; and reduce inequality, all of which strengthen our economy.
That includes building the clean energy future here in America. The Inflation Reduction Act, which every Congressional Republican voted against, makes the most significant investment in our climate and clean energy that's ever been made. According to outside groups, it's expected to create more than 1.5 million jobs in the next decade, and we're making sure these are good jobs. Last week, we announced tax credits that provide strong incentives for companies building clean energy projects to pay prevailing wages and hire registered apprentices.
And as many auto companies significantly ramp up their investments in electric vehicles, this week, my Administration announced $15 billion in grants and loans to support a strong and just transition to electric vehicles, including a major focus on keeping auto plants open, retraining skilled workers, and ensuring auto jobs remain high paying jobs and union jobs as we build a clean energy future. Auto manufacturing has long been a middle-class career that provides good pay that can support a family, with the free and fair chance to join a union. I am not going to let that change on my watch.
This is about workers and the American dream. Every American willing to work hard should be able to get a job, raise their family on a good paycheck, and keep their roots where they grew up.
That's why Bidenomics is anchored in what's always worked best for our country: investing in America's workers, the real heroes of our story.
We've been through some tough times the past few years, but you never gave up. Every day, ordinary people who get up and do extraordinary things. That's who we are – a nation where anything is possible.
Joe Biden is the 46th president of the United States.
Joseph R. Biden, Op-Ed by the President Ahead of Labor Day Online by Gerhard Peters and John T. Woolley, The American Presidency Project https://www.presidency.ucsb.edu/node/364600