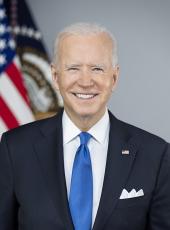 Op-Ed by the President: "3 Things Everyone Should Know About the Inflation Reduction Act"
Yahoo News: 3 things everyone should know about the Inflation Reduction Act
[President Joe Biden, 8/16/22]
Today, I signed the Inflation Reduction Act into law — one of the most significant laws in recent history. With this law, the American people won and special interests lost. The Inflation Reduction Act does so many things that so many of us have fought to make happen for years and years.
There are three things everyone should know about the Inflation Reduction Act. First, we are lowering costs for working families.
We are giving Medicare the power to negotiate for lower prescription drug prices. Seniors will pay less for their prescription drugs. The law caps their prescription drug out-of-pocket costs at $2,000 a year — no matter how many prescriptions they have. The big drug companies spent nearly $100 million to beat this law. We prevailed.
The Inflation Reduction Act locks in place lower health care premiums for millions of families who get coverage under the Affordable Care Act. Thirteen million people will see average savings of $800 a year, in addition to the $2,400 in savings through the American Rescue Plan that I signed into law last year.
The law takes the most aggressive action ever in confronting the climate crisis and strengthening our energy security. It will offer working families thousands of dollars in savings by providing them rebates to buy new and efficient appliances and weatherize their homes, and tax credits for heat pumps and rooftop solar. It gives consumers a tax credit to buy an electric vehicle or fuel cell vehicle — new or used — up to $7,500 if that vehicle was made in America.
It also provides tax credits that will create thousands of good-paying clean energy manufacturing jobs on solar projects, wind projects, clean hydrogen projects and carbon-capture projects across the country.
Second, in this historic moment, Democrats sided with the American people and Republicans sided with the special interests.
Every single Republican voted against lower prescription drug prices, against lower health care costs and against a fairer tax system. Every single Republican voted against tackling the climate crisis, against lowering energy costs and against creating good-paying jobs.
Democrats voted to cut the deficit to fight inflation by having the wealthy and big corporations pay their fair share. Every single Republican opposed requiring big corporations to pay a minimum tax of 15%, instead of getting away with paying zero dollars in federal income taxes.
And we did it while keeping my campaign commitment: No one earning less than $400,000 a year will pay a single penny more in federal taxes.
Third, we demonstrated that government can work for working families.
There are those who hold a dark and despairing view of this country. Too often, we hand the biggest microphone to the critics and the cynics who delight in declaring defeat. We confuse noise with substance and obstacles with the end.
The work of governing is hard. It's frustrating and slow. It requires compromise. Making progress in a country as big and complicated as ours isn't easy. It never has been.
But with unwavering conviction, commitment and patience, progress comes.
And when it does, people's lives are made better, the future becomes brighter and a nation is transformed.
I took office during a dark time in America. A once-in-a-century pandemic. Devastating joblessness. Clear and present threats to democracy and the rule of law. Doubts about the American future itself. We have not wavered or given in to these challenges. Instead, we are doing the hard work of delivering on results for the American people.
The paramount duty of the presidency is to defend what is best about America and to create possibilities for all of us.
From the American Rescue Plan to the Bipartisan Infrastructure Law, to the gun safety law, to the burn pits law for veterans, to the CHIPS and Science law, to the Inflation Reduction Act, we are delivering progress and prosperity for American families. We are proving that America and American democracy works. Not just for the privileged few, but for all of us.
That's the America I believe in.
I believe in the future of America. I believe in the very soul of this nation. Most of all, I believe in the American people.
And as I've said many times before, there isn't a single thing this country can't do when we put our mind to it.
Joseph R. Biden, Op-Ed by the President: "3 Things Everyone Should Know About the Inflation Reduction Act" Online by Gerhard Peters and John T. Woolley, The American Presidency Project https://www.presidency.ucsb.edu/node/357305