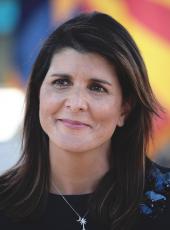 Op-Ed by Nikki Haley - A Different Kind of Father's Day
Fox News by Nikki Haley
This will be a different Father's Day for my family and many other military families in South Carolina. Later this week we'll say goodbye to my husband, Michael. He's starting a nearly year-long deployment to Africa with the South Carolina Army National Guard. He'll spend the next 12 months in the uniform of the United States, protecting his wife, our two children, and the freedoms of every American.
This isn't the first time Michael has been deployed. In 2013, he went to Helmand Province in Afghanistan. We stood with him on the morning he left. We hugged and kissed him and told him how much we love him. We hoped with every fiber of our being that he would come home safely. That nothing would happen to him. That our family would be whole again. This week, we'll do it all over again.
A deployment is basically a year-long prayer for military families like ours. It's the first thing you think about when you wake up and the last thing you think about before you go to bed. But worry isn't the only emotion you feel. It's not even the most powerful feeling that military families experience. Most of all, we feel pride. We thank God for these heroes' service to our country even as we pray for their safety.
Michael is doing what millions of patriotic Americans have done since our founding. He's putting the nation ahead of himself, out of a deep recognition that freedom is worth fighting for. That's why he joined the National Guard in 2006. It's why he still serves, nearly two decades later. When you're in the military, you're always ready to answer the call. America demands and deserves nothing less than the most you can give.
When I was governor of South Carolina, I would always remind Michael that I was his commander in chief. It always gets a good laugh, yet it also reminds us that service to our country takes many different forms. He's always supported my service, and I'll always support his. For that matter, I love and support everyone who serves in the armed forces, and their families, too. I know what they go through. And I want them to know they have my respect, and that of the whole nation.
Nothing can prepare you for the day your loved one deploys. Even when you know it's coming, saying goodbye is still one of the hardest moments of your life. You've already talked about the what-ifs and the worst-case scenarios. Yet on the day itself, when you look your loved one in the eyes, it all goes out the window.
There is so much we can do to support our loved ones while they serve. On top of the prayers, the video calls, and the care packages, every military family I know wants to honor our heroes by keeping America strong.
That means teaching our children to love our country; giving our veterans the world-class care they earned once they return; and modernizing our military so our men and women in uniform can protect themselves, each other, and our freedom – from any enemy on earth.
My husband Michael and his brothers and sisters in arms deserve all the support our country can muster. I'll keep fighting for that every day he's gone, and long after he comes home.
That's my promise to Michael on this Father's Day. Our children and I will celebrate him, even as we prepare for the challenges that lie ahead. Thank God my children have a father who shows them what it means to serve. Thank God America has so many leaders who stand up and step forward to keep us safe.
Nikki Haley, Op-Ed by Nikki Haley - A Different Kind of Father's Day Online by Gerhard Peters and John T. Woolley, The American Presidency Project https://www.presidency.ucsb.edu/node/364305