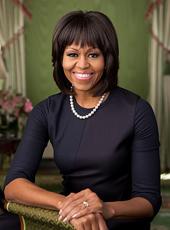 Op-Ed Article by the First Lady in the Wall Street Journal
First Lady Michelle Obama: Let's Ensure That Every Girl Can Learn
This week I will travel to Tokyo to join Akie Abe, the wife of Japan's prime minister, as the United States and Japan announce a new partnership to educate girls across the globe. As part of this effort, the U.S. government has launched an international initiative, called "Let Girls Learn," to help girls in developing countries go to school and stay in school.
These new investments—along with previous investments by countries like the United Kingdom—reflect a growing global consensus that when 62 million girls world-wide are not in school, that is not only a tragic waste of human potential. It is also a serious public-health challenge, a drag on national economies and global prosperity, and a threat to the security of countries around the world, including our own.
The research is unequivocal: Girls who attend secondary school marry and have children later, and they have lower maternal and infant-mortality rates and lower rates of HIV/AIDS. Every additional year of education can increase a girl's earning power by 10% to 20%; and sending more girls to school can boost an entire country's economy. National-security experts have even noted that educating women can be a powerful tool to fight extremism, violence and instability.
The question today is no longer whether to invest in global girls' education, but how, particularly when it comes to adolescent girls. As of 2012, every developing region in the world had achieved, or was close to achieving, gender parity in primary education. The gender gap persists in secondary education, however, because adolescence is often when girls are first subject to the cultural values and practices that define, and limit, the prospects of women in their societies.
We cannot address the issue of girls' education unless we are also willing to confront the complex issues that keep so many girls out of school in the first place: from female genital cutting/mutilation, to early and forced marriage, to economic disincentives like unaffordable school fees and the loss of girls' household labor.
Safety is a perfect example. Many parents in the developing world are afraid that their daughters will be sexually assaulted while walking to or from school. This is an understandable concern to which any parent can relate. But in many communities, parents aren't just worried about terrible physical and emotional harm to their daughters, they are also worried about the harm to her marriage prospects—that she'll be considered "damaged goods" and have no one to provide for her in adulthood.
Consequently, in working to educate girls, we are often asking people to change or disregard deeply held community values and traditions and do what seems to be against their daughters' best interests. So while the education gender gap is a global challenge, its root causes are often local, and they call for local solutions. That is the guiding principle behind Let Girls Learn, which is centered around a new, community-focused initiative run by the Peace Corps.
America's nearly 7,000 Peace Corps volunteers live and work in developing communities across the globe and know better than just about anyone the challenges girls face. Through Let Girls Learn, the Peace Corps will be training all of its volunteers in gender and girls' education. Hundreds of these volunteers will then work full time to develop locally based education programs, from leadership camps to mentoring projects.
These efforts will be community-generated and community-led, based on solutions devised by local leaders, families and girls themselves. Japan is taking a similar, community-driven approach in its girls' education efforts. And during my trip to Asia this week, I will visit a school in Cambodia—one of the first countries in which Let Girls Learn will operate—where Peace Corps volunteers are already transforming girls' lives.
But given the magnitude of the challenge, U.S. action alone will not suffice, nor will the efforts of just a few concerned countries. That is why this week in Japan, we will call for countries around the world to join us by making their own investments to help girls learn.
While the focus of this work is international, Let Girls Learn is also about inspiring young people here at home to commit to their education. Through Let Girls Learn, I want girls—and boys—here in the U.S. to learn about the challenges girls world-wide face in getting an education. I want them to understand that even though their own school might be far from perfect—and my husband is working hard to change that—they still have a responsibility to show up every day and learn as much as they can. And I want them to connect with other young people from every background and nationality, particularly young women who set such a powerful example.
These girls walk miles each day to school, study for hours each night, and stand strong against those who say they are unworthy of an education. If they are prepared to make those sacrifices, the global community should be able to summon the resources to help them fulfill their promise and the promise of their families, communities and countries.
Michelle Obama, Op-Ed Article by the First Lady in the Wall Street Journal Online by Gerhard Peters and John T. Woolley, The American Presidency Project https://www.presidency.ucsb.edu/node/320932