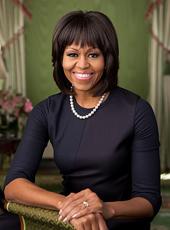 Op-Ed Article by the First Lady on CNN.com
First Lady Michelle Obama: For Girls, A Heartbreaking Loss—And An Opportunity
Ralphina Feelee lives in Liberia, where the average family gets by on less than two dollars a day, and many families simply can't afford to educate their daughters. Teen pregnancy rates are high, and pregnant girls are often discouraged from attending school.
Sometimes it's not even safe for girls to attend school in the first place, since their commutes to and from school can be dangerous, and they sometimes even face sexual harassment and assault at school.
Ralphina wakes up early each morning, cooks for her family, cares for her younger siblings, and goes to work at a local market -- all before she even gets to school. But she still attends class each day, working especially hard in science and math so she can fulfill her dream of becoming a nurse.
Rihab Boutadghart lives in a remote part of Morocco near the Sahara Desert. While Morocco has made huge strides in education, and nearly all girls there attend elementary school, girls in rural areas often live far from the nearest middle and high schools, so many of them drop out of school by the time they turn twelve. Right now, only 14 percent of girls in rural Morocco attend high school.
But Rihab, who proudly describes herself as a "feminist," is determined to finish her education. She dreams of becoming an entrepreneur and being the CEO of a major company, and she recently appeared on Moroccan TV urging girls to work hard and follow their passions.
I had the privilege of meeting Ralphina and Rihab earlier this week when I traveled to Liberia and Morocco to highlight our global girls' education crisis -- the fact that right now, more than 62 million girls worldwide are not in school. This is such a heartbreaking loss, because these girls are so bright and so hungry to learn -- and like Ralphina and Rihab, they have such big dreams for themselves. These girls are no less smart or deserving of an education than my own daughters -- or any of our sons and daughters. The only thing that separates them from our children is geography and luck.
Sometimes the issue is resources: their families simply can't afford the school fees; or the nearest school is hours away; or the school nearby doesn't have adequate bathroom facilities for girls, so they're forced to stay home during their menstrual cycles, and they wind up falling behind and dropping out.
But often the root of the problem is really about attitudes and beliefs: families and communities simply don't think girls are worthy of an education, and they choose to marry them off as teenagers instead, often forcing them to start having children when they're basically still children themselves.
The girls I met in Morocco and Liberia want to be doctors, teachers, entrepreneurs, engineers. One of them wants to run for office so she can fight for women's rights and combat climate change. Another hopes to open her own auto shop to teach women about cars so they can be more independent.
But we know that when we give these girls the chance to learn, they will seize it. They'll walk for miles each day to school. They'll study for hours every night by candlelight, determined to learn as much as they possibly can.
We know that when we give these girls the chance to learn, they will seize it.
We also know that educating girls doesn't just transform their life prospects -- it transforms the prospects of their families, communities, and nations as well. Studies show that girls who are educated earn higher salaries -- 10 to 20 percent more for each additional year of secondary school -- and sending more girls to school and into the workforce can boost an entire country's GDP. Educated girls also marry later, have lower rates of infant and maternal mortality, and are more likely to immunize their children and less likely to contract malaria and HIV.
That's why, last year, President Obama and I launched Let Girls Learn, an initiative to help adolescent girls worldwide attend school. And this week, we were proud to announce major new efforts by the U.S. government to promote girls' education in Africa.
In Liberia we'll be running girls' empowerment programs, working to end gender violence in schools, and supporting new, second-chance schools for girls who were forced to drop out because of pregnancy or rape.
In Morocco we'll be working closely with the Moroccan government to help transform high schools across the country, and we'll be supporting new school dormitories to allow girls from rural areas to attend school far from home.
Large scale efforts like these are critically important, and will affect the lives of countless girls, but they're simply not enough. Governments alone cannot solve this problem -- not when we're talking about a number like 62 million.
That's why I ended my trip this week in Spain delivering a speech to an audience of young Spanish women. I wanted to make a simple, but urgent point: Every single one of us in countries like Spain and the U.S. has the power -- and the obligation -- to step up as a champion for these girls.
I told these young women: If you have access to social media, then you have a platform to tell these 62 million girls' stories and raise awareness about the challenges they face. And that's just as true for everyone at home in the U.S. You can go to 62MillionGirls.com right now to find all the information you need to get started and to learn how you can take action to support girls' education efforts across the globe.
Once you know these girls' stories, I think you'll find, as I have, that you simply can't walk away from them. After traveling the world as First Lady and meeting so many girls like Ralphina and Rihab, I carry their hopes and their ambitions with me everywhere I go, and I plan to continue my work on their behalf not just for my final seven months as First Lady, but for the rest of my life. I hope you will join me in this mission.
Michelle Obama, Op-Ed Article by the First Lady on CNN.com Online by Gerhard Peters and John T. Woolley, The American Presidency Project https://www.presidency.ucsb.edu/node/320927