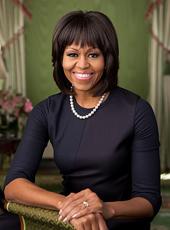 Op-Ed Article by the First Lady and Dr. Jill Biden in USA Today
The troops need us
By Michelle Obama and Jill Biden
This has been a summer of homecomings. In marking the end of the American combat mission in Iraq, we have now welcomed home nearly 100,000 of our troops from that war. Across the country, family and friends have honored these returning heroes. Spouses have been reunited, and military moms and dads have held their children once again.
But while America's combat mission in Iraq has ended, America's commitment to our troops and their families goes on. All of us are called to an ongoing mission: to support our troops, veterans and their families, whether they are here at home, serving in Afghanistan, or supporting the Iraqi people as they forge their own future.
Stepping up
As a country, we have come a long way in how we support our veterans and military families. In our travels to base communities from Fort Bragg to Camp Pendleton, we have seen employers creating innovative programs to support military families, classrooms adopting deployed units, faith communities providing prayers and support, and countless other acts of kindness.
Yet there is still more work to be done.
Our military families are strong, resilient and proud to serve their country.
Nonetheless, they don't always feel that the rest of the country is part of the war effort. We've met National Guard families who feel isolated because they are the only members of their communities experiencing the deployment of a loved one. We've heard from military kids who struggle in school while their parents are deployed.
Remarkably, these same families still find time to serve their communities every day. They are troops who come home from a long deployment and coach Little League or mentor a child. They are children who tutor their younger siblings, and spouses who balance their families with jobs, school, community service — or all of the above. They are wounded warriors, survivors and veterans who continue to give so much to our country.
Guided by their stories, the Obama administration has made one of the largest investments in a generation in our veterans and military families. This includes building a 21st century Department of Veterans Affairs, improving care for traumatic brain injuries and post-traumatic stress disorder, strengthening military family readiness programs, helping hundreds of thousands of veterans get a college education, and combating the tragedy of homelessness among veterans.
But government can only do so much.
That's why we're challenging every sector of American society to support and engage our military families. You don't have to come from a military family, have a base in your community, or be an expert in military issues to make a difference. Every American can do something.
'We can do this'
Businesses and organizations of all kinds can expand job opportunities and connect the work they're already doing with the needs of military families. There are so many ways to help, and you can get started by visiting www.serve.gov to see how other Americans are helping in their communities.
One percent of our population is doing 100% of the fighting, but we need 100% of Americans working to support our troops and their families. We can do this. In every community, every day, we can find concrete ways to show our military families the respect and gratitude that each of us holds for them in our hearts. They deserve our support long after the welcome home ceremonies are over.
That's the spirit that defines us as Americans, and it's who we need to continue to be in the months and years ahead.
Michelle Obama, Op-Ed Article by the First Lady and Dr. Jill Biden in USA Today Online by Gerhard Peters and John T. Woolley, The American Presidency Project https://www.presidency.ucsb.edu/node/321339