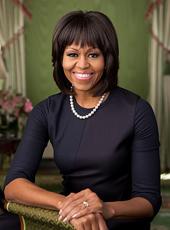 Op-Ed Article by the First Lady and Dr. Jill Biden in the Military Times, Army Times, Air Force Times, Marine Corps Times, and Navy Times
Michelle Obama, Jill Biden: 'Joining Forces' with you on Veterans Day
Over the past five years, the two of us have had the privilege of traveling across America and around the world to visit with our extraordinary troops, veterans and military families — and time and again, we have been awed by your service and sacrifice.
We've been overwhelmed by the courage of our wounded warriors and the devotion of the caregivers who stand by their side. We've been inspired by the military spouses and children who've endured move after move, deployment after deployment with such strength and grace. And we've seen how, even after transitioning to civilian life, our veterans and military families continue to serve, volunteering countless hours in your communities for all sorts of important causes.
That's why, 2½ years ago, we decided that it was our obligation not only to tell you how much we appreciate everything you do for our country, but to show you by stepping up and giving you and your families the honor, recognition and support you've earned. That's how Joining Forces was born.
The goal of this initiative was to rally all Americans to step up and serve you as well as you have served this country. We challenged individuals, organizations and businesses across the country to make real, meaningful commitments to you and your families. And from the very beginning, we have been overwhelmed by the response. Here are just a few examples:
• Employment: It is simply unacceptable that men and women who serve this country so bravely abroad often struggle to find a good job once they return home. Our veterans are some of the most highly-skilled, hardest-working employees around. They thrive in fast-paced, high-pressure environments, and they've got extensive experience building teams, managing complex logistics, and dealing with cutting-edge technology.
In short, our veterans are tremendous assets for our businesses, so we challenged companies across America to hire as many veterans as possible. And since we launched Joining Forces, companies of all sizes, including major American businesses like Walmart, Starbucks, Facebook, AT&T and more have hired hundreds of thousands of veterans and military spouses.
But too often, even when good jobs were available, veterans and military spouses had trouble getting hired because of outdated, inefficient licensing and credentialing requirements.
We heard from so many veterans who had learned highly technical, specialized skills during their time in the military, but when they returned home, employers had trouble understanding how those military credentials translated into civilian qualifications. Military spouses were also having difficulty building their careers because almost every time they moved, their teaching or nursing or other professional credentials weren't recognized by their new state, even if they'd been practicing for years.
To address these issues, we've been working with governors, state legislatures and the Defense Department to streamline licensing and credentialing processes and to help employers better understand military credentials. So far, 44 states have changed their laws to help veterans, and 40 states have done so on behalf of spouses.
• Wellness: For some of our veterans, the transition from combat to civilian life brings with it some of the hardest moments they and their families will ever face. While the majority of our veterans make this transition smoothly, we know that post-traumatic stress and traumatic brain injuries pose significant challenges for so many military families. But too often, these conditions are improperly diagnosed, or veterans and their families simply don't receive adequate treatment and support.
That's why major national associations of doctors, nurses, medical schools, physical therapists, and social workers have committed to educating their members about these issues, expanding their research on promising treatments and cures, and providing world-class care and support for all of those who are contending with the unseen wounds of war — and for their families.
• Education: Last week, the Veterans Affairs Department announced its one-millionth GI Bill recipient, Steven Ferraro. Like Steven, so many of our veterans complete their service and head to a community college or four-year school to get the degree or credential they need to get the good jobs they deserve.
To help these heroes succeed once they arrive on campus, 250 community colleges and universities have signed on to our "8 Keys to Success" initiative and pledged to provide important services for veterans, from offering academic and career advice to collaborating with local organizations to provide more comprehensive outreach to student veterans.
We're also working to support all those military children who are moving from school to school every few years, constantly having to find new friends and adjust to new learning environments. That's why we launched Operation Educate the Educators to help teachers across the country better understand the challenges of being a military child and to equip them with the tools they need to address military children's unique needs and concerns. We are thrilled that more than 100 teachers colleges have signed on to this effort.
We're proud of how far we've come, but we are nowhere near finished. We're not going to stop until every veteran and military spouse who wants a job has one; until we reach every family affected by the unseen wounds of war; until every student veteran and military child gets the education they need; and until every community and every American shows their admiration and support for you and your families in ways that you feel every single day.
That is our vow to you on this Veterans Day. Thank you again for your service to our country, and God bless.
Michelle Obama, Op-Ed Article by the First Lady and Dr. Jill Biden in the Military Times, Army Times, Air Force Times, Marine Corps Times, and Navy Times Online by Gerhard Peters and John T. Woolley, The American Presidency Project https://www.presidency.ucsb.edu/node/320920