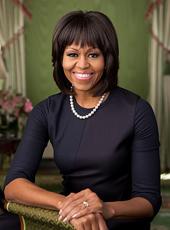 Op-Ed Article by the First Lady Across McClatchy Platforms
Let's end veteran homelessness once and for all
At the beginning of June, 85 mayors, governors and county officials from across the country – and across the political spectrum – signed on to the Mayors Challenge to End Veterans Homelessness. Today, we're announcing that in the two months since then, 97 more state and local leaders have signed on – meaning that a total of 182 local leaders have pledged to end homelessness among the veterans in their communities by the end of 2015.
I know that might sound like a pipe dream. After all, veteran homelessness is a problem we've faced for decades – in fact, almost 90 percent of all homeless veterans served prior to 9/11. And as a country, we've never been able to rally the resources and the public will to get all of our veterans off the streets and into stable housing.
So why do all these state and local leaders believe that things are any different today? The answer to that question is simple: because today – thanks to federal, state and local leadership and the determined, daily work of advocates on the ground – we're finally seeing that ending veteran homelessness is not just something we should strive to achieve – it's something we actually can.
For example, in recent months, Phoenix and Salt Lake City effectively ended chronic homelessness among their veterans. New Orleans is on track to end all veteran homelessness within the next six months. Last year, New York City helped more than 2,000 veterans get into safe and stable housing. St. Paul and Minneapolis have cut veteran homelessness in half over the last five years, and between the two cities there are just 18 veterans left on the streets.
Any number of veterans left out in the cold is too many, but those numbers show us that even in some of our largest metropolitan areas, ending veteran homelessness is eminently achievable.
My husband has believed this from the moment he took office. That's why he not only vowed to end veteran homelessness, he coupled that pledge with record funding and innovative strategies to get it done. We know that through solutions like "housing first" – an evidence-based strategy to get our veterans into permanent housing before tackling issues like mental health, substance abuse or employment – we can not only do right by our veterans but also save taxpayer money. Quite simply, it's cheaper to pay someone's rent than to pay for hospital bills, law enforcement and so many other services if they're living on the street.
By employing that strategy, even in the midst of a historic recession, we've seen tremendous progress. Since 2008, we've housed more than 73,000 veterans through the HUD-VASH program, which provides housing vouchers to help homeless veterans pay for permanent, stable housing. And last year alone, under a program called Supportive Services for Veteran Families, we kept more than 60,000 veterans and their family members from falling into homelessness. Next year, we expect that number to grow to over 100,000.
But we know that this problem can't be solved by Washington alone. It takes local leaders to implement community-wide plans. It takes advocates and service providers who know our veterans by name and can connect them with the services and support that they need. And it takes folks from all across the country making their voices heard and dedicating their time and energy to help these veterans find a place to call home.
So if your mayor hasn't signed on to the mayors challenge, light up their phone lines and ask them why not. If you've got a free minute, contact a local organization in your neighborhood and ask when you can volunteer or where you can donate.
Our veterans have given so much to this country – time and again, with their service and sacrifice, they've shown us who they are. Now it's up to the rest of us to show who we are. It's up to us to show these veterans we've got their backs and end veteran homelessness once and for all.
Michelle Obama, Op-Ed Article by the First Lady Across McClatchy Platforms Online by Gerhard Peters and John T. Woolley, The American Presidency Project https://www.presidency.ucsb.edu/node/320934