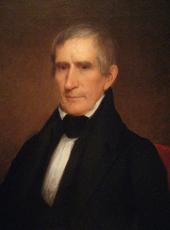 Official Arrangements for the Funeral of President Harrison
The circumstances in which we are placed by the death of the President render it indispensable for us, in the recess of Congress and in the absence of the Vice-President, to make arrangements for the funeral solemnities. Having consulted with the family and personal friends of the deceased, we have concluded that the funeral be solemnized on Wednesday, the 7th instant, at 12 o'clock. The religious services to be performed according to the usage of the Episcopal Church, in which church the deceased most usually worshiped. The body to be taken from the President's house to the Congress Burying Ground, accompanied by a military and a civic procession, and deposited in the receiving tomb.
The military arrangements to be under the direction of Major-General Macomb, the General Commanding in Chief the Army of the United States, and Major-General Walter Jones, of the militia of the District of Columbia.
Commodore Morris, the senior captain in the Navy now in the city, to have the direction of the naval arrangements.
The marshal of the District to have the direction of the civic procession, assisted by the mayors of Washington, Georgetown, and Alexandria, the clerk of the Supreme Court of the United States, and such other citizens as they may see fit to call to their aid.
John Quincy Adams, ex-President of the United States, members of Congress now in the city or its neighborhood, all the members of the diplomatic body resident in Washington, and all officers of Government and citizens generally are invited to attend.
And it is respectfully recommended to the officers of Government that they wear the usual badge of mourning.
DANL. WEBSTER,
Secretary of State .
T. EWING,
Secretary of the Treasury.
JAG. BELL,
Secretary of War.
J. J. CRITTENDEN,
Attorney-General.
FR. GRANGER,
Postmaster-General.
(The Secretary of the Navy was absent from the city.)
William Henry Harrison, Official Arrangements for the Funeral of President Harrison Online by Gerhard Peters and John T. Woolley, The American Presidency Project https://www.presidency.ucsb.edu/node/200439