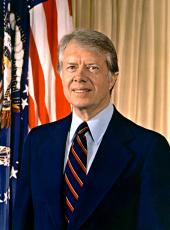 Office of Science and Technology Policy Nomination of Frank Press To Be Director.
The President today announced that he will nominate Frank Press to be Director of the Office of Science and Technology Policy. Press will also serve as the Science and Technology Advisor to the President. He is currently chairman of the Department of Earth and Planetary Sciences at the Massachusetts Institute of Technology.
Press was born in Brooklyn, N.Y., on December 4, 1924. He received a B.S. degree from the College of the City of New York in 1944 and an M.A. (1946) and Ph.D. (1949) from Columbia University.
He served on the faculty in the Geology Department at Columbia University as an instructor from 1949 to 1951, an assistant professor in 1951-52, and an associate professor from 1952 to 1955.
From 1955 to 1965, Press was a professor of geophysics at California Institute of Technology, and from 1957 to 1965 he also served as director of the Seismological Laboratory there. He has served in his present position at M.I.T. since 1965.
Press has served as a consultant to the President's Assistant for Science and Technology since 1964, and from 1956 to 1960, and to the National Aeronautics and Space Administration since 1965, and between 1960 and 1962. He was a member of the National Science Board from 1970 to 1976.
He has also been a consultant to the U.S. Navy, the U.S. Geological Survey, the U.S. Department of State, the U.S. Department of Defense, the Agency for International Development, and the U.S. Arms Control and Disarmament Agency.
He is editor of Physics of the Earth and Planetary Interiors and a consulting editor of the International Series in the Earth and Planetary Sciences. He has had numerous articles published in scientific journals.
Press is a member of the U.S/U.S.S.R. Working Groups in Earthquake Prediction and Marine Geology/Geophysics. He has been chairman of the Committee on Scholarly Communication with the People's Republic of China since 1975.
He served on the U.S. delegation to the Nuclear Test Ban Conferences in Geneva in 1959, 1960, and 1961, and in Moscow in 1963. He served on the President's Science Advisory Committee from 1961 to 1964.
Jimmy Carter, Office of Science and Technology Policy Nomination of Frank Press To Be Director. Online by Gerhard Peters and John T. Woolley, The American Presidency Project https://www.presidency.ucsb.edu/node/243140