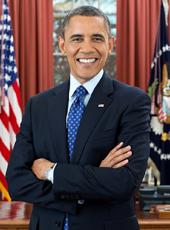 Obama Campaign Press Release - Obama Tours Seattle-Based Green Contractor McKinstry Company, Touts Green Jobs Plan
Seattle, WA - During a visit to McKinstry Company, a Seattle-based mechanical contractor that retrofits buildings to make them energy-efficient, Senator Barack Obama today laid out his comprehensive plan to create a green economy and combat climate change through investment in new clean energy technology.
"In this campaign, I've proposed a comprehensive solution to our energy crisis. It's a plan that will develop and deploy the next generation of energy — a plan that will create new industries and millions of new, good-paying jobs right here in America. They are jobs that can't be outsourced and won't disappear. They are jobs like ones right here at McKinstry, and they are the future of our economy," Obama said.
Obama's plan would create millions of new American jobs by investing $150 billion over 10 years to advance the next generation of green energy technology and infrastructure, provide job training and transition programs to help train workers for employment in the green economy and establish new national energy standards to spur demand for clean, sustainable sources of energy.
The plan would also provide incentives to improve building efficiency — a market that McKinstry Company tapped into several years ago, resulting in rapid growth and increased profitability for the family-led company that was named a 2007 "Best Places to Work" by Seattle Business Monthly.
Obama was joined on the visit by Seattle Mayor Greg Nickels, a leader in addressing the causes of global warming both in his own city and across the country. Three years ago, Nickels launched an effort to urge U.S. mayors to agree to enact their own greenhouse gas reduction programs in their cities. Six-hundred and fifty mayors in all fifty states have now signed that agreement.
Obama's comprehensive plan to create a green economy and combat climate change includes:
* Implementing a market-based 100% auction cap-and-trade program to reduce greenhouse gas emissions 80 percent by 2050.
* Investing $150 billion over 10 years to advance the next generation of biofuels and fuel infrastructure, accelerate the commercialization of plug-in hybrids, promote development of commercial-scale renewable energy, and begin transition to a new digital electricity grid.
* Using proceeds from the cap-and-trade auction program to invest in job training and transition programs to help workers and industries adapt to clean technology development and production.
* Creating a Clean Technologies Deployment Venture Capital Fund and investing $10 billion per year in it for five years to fill a gap in U.S. technology development.
* Requiring 25 percent of all electricity to come from renewable sources by 2025 and at least 30 percent of the federal government's electricity to come from renewable sources by 2020 to ensure less carbon intensive energy is used in our energy supply.
* Setting a goal of making all new buildings carbon neutral, or produce zero emissions, by 2030 and establishing a grant program for early adopters.
* Flipping incentives of energy utilities to ensure companies earn increased profits for improving energy efficiency, rather than higher energy consumption, and expanding Federal efficiency grant programs to help to improve efficiency of buildings.
* Investing in a digital smart grid to enable a tremendous increase in renewable energy generation and accommodate 21st century energy requirements.
Senator Obama's program to create a green economy can be viewed HERE.
Senator Obama's full climate change and energy independence plan can be viewed in full HERE.
This is Obama's second visit to Seattle since announcing his plans to run for President. Earlier today he received the endorsement of Washington Governor Christine Gregoire who will join him later today at a rally at the KeyArena.
Barack Obama, Obama Campaign Press Release - Obama Tours Seattle-Based Green Contractor McKinstry Company, Touts Green Jobs Plan Online by Gerhard Peters and John T. Woolley, The American Presidency Project https://www.presidency.ucsb.edu/node/292227