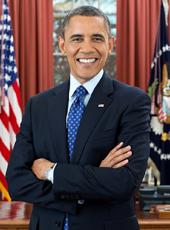 Obama Campaign Press Release - In Meeting with Northern Virginia Parents, Obama Lays Out Plan for World-Class Education for All Kids
During roundtable discussion, Obama hears parents concerns and discusses comprehensive agenda to improve education from birth to college
Alexandria, VA - During a visit to T.C. Williams High School in Alexandria today, Senator Barack Obama held a discussion with Northern Virginia parents on his plan to ensure that all children receive a world-class education from the day they are born until the day they graduate college.
During the discussion, Obama addressed the group's concerns about American students continuing to score lower on math and science tests than most students around the world, financial disparities among school districts dictating the quality of education children receive, and insufficient teacher pay preventing schools from recruiting and rewarding the best educators.
"I do not accept this future for America's children," Obama said. "I do not accept passing a law called No Child Left Behind and then leaving the money behind. I do not accept an education policy where a child in southwest Virginia starts at a disadvantage because her parents can't afford quality pre-school. I do not accept teachers working at Dunkin Donuts to make ends meet, or reaching into their own pockets to pay for school supplies. Every child in America should have the opportunity to succeed, from birth through college."
Obama's comprehensive plan begins at birth with his Children's First Agenda, which provides learning and support for families with children from zero to five by increasing Head Start and Early Start funding and creating Early Learning Grants to help states create their own systems of high-quality early childhood education, and continues into the college years by providing an annual $4,000 tax credit for every student that needs assistance paying for higher-education in exchange for a commitment to perform community service.
The Obama plan also invests in recruitment of outstanding teachers by launching a program to pay for a college education for all Americans who commit to teach in a high-need field or location, expanding mentoring programs to pair new teachers with their more experienced counterparts and rewarding quality teaching with increases in pay.
"I am running for President because I want to work for a world in which my two girls have every opportunity to achieve their dreams - and because I want every American child to share those opportunities," Obama said. "If we come together in this country, I know we can create a more hopeful future for our kids. If we recognize that the success of all of our children is linked - through our schools, our communities and our country - I know that we can make sure that every child has the same kind opportunity that I had."
Obama's comprehensive plan to provide a world-class education for all children from birth to college can be viewed in full HERE.
Barack Obama, Obama Campaign Press Release - In Meeting with Northern Virginia Parents, Obama Lays Out Plan for World-Class Education for All Kids Online by Gerhard Peters and John T. Woolley, The American Presidency Project https://www.presidency.ucsb.edu/node/292921