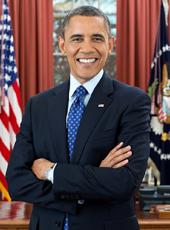 Obama Campaign Press Release - Barack Obama Discusses Plan to Revitalize Economy
Economic Plan Will Protect Consumers from Predatory Lending
Chicago, IL - Today in the home of a Van Nuys, CA resident, Senator Barack Obama hosted a roundtable discussion with local residents about the predatory lending crisis that threatens the economic stability of millions of Americans. Obama spoke about his plan to protect consumers against abusive lending practices and to ensure Americans impacted by the subprime mortgage crisis can keep their homes. On Monday, January 14, Obama unveiled his economic stimulus plan to provide relief to California's middle class and provide support for working people.
"Months ago, I introduced a plan to help struggling homeowners and prevent this crisis from happening again in the future," Senator Obama said. "It would crack down on unscrupulous lenders, give consumers the information they need to protect them against abusive lending, and provide a tax credit to 10 million homeowners - including 850,000 right here in California."
Obama was joined by several local citizens who have been impacted by the crisis, such as Mimi Vitello, who purchased her home with an interest only loan. With her mortgage payments now skyrocketing, she is uncertain if she will be able to stay in her home. Also joining the roundtable was Carlos Garcia, a maintenance worker at Children's Community School and father of three. He expressed his distress that the credit cards he had been using turned out to have hidden terms and conditions that resulted in explosive credit card debt that is now preventing him from purchasing his own home. Obama shared their frustration.
" California has the highest number of foreclosures in the nation, and the economic impact on this state is expected to over $23 billion," said Senator Obama said. "This is an outrage. It's an outrage that Washington caved to lobbyists when they knew this could happen and it's an outrage that they're doing nothing about it now."
Some of the specific proposals outlined in Obama's plan:
• Reform bankruptcy laws to protect families facing a medical crisis
• Obama will create an exemption in the 2005 bankruptcy bill (which he opposed) that the middle class families extend their debts rather than have them forgiven. If a person can demonstration to the satisfaction of the bankruptcy court that they reason they filed for bankruptcy was a result of debts incurred through medical expenses, they should have an opportunity to get back on their feet.
• Cap outlandish interest rates on payday loans and improve disclosure
• In the wake of reports that the some service members were paying 800 percent interest rates on payday loans, Congress took bipartisian action to limit interest rates charged to members to 36 percent. Obama believes we must extend this protection to all Americans.
• Obama believes all Americans need clear and simplified information about loan fees, payments and penalties
• Encourage responsible lending institutions to make small consumer loans
• Obama would work with his Secretary of Treasury and the Federal Deposit Insurance Corporation to encourage banks, credit unions and Community Development Financial Institutions to provide affordable short-term and small dollar loans
• Establish a credit card bill of rights to protect consumers. The bill of rights would:
• Ban Unilateral Changes
• Apply interest rate increases only to future debt
o Prohibit interest on fees
• Prohibit "Universal Defaults"
• Require Prompt and Fair Crediting of Cardholder Payments
• Create a Foreclosure Prevention Fund to Help Families Keep Their Home
• Dramatically increase emergency pre-foreclosure counseling resources
• Help responsible families refinance their mortgages
• Assist individuals who purchased homes that are simply too expensive for their income levels to sell their homes
Barack Obama's plan to protect homeownership and crack down on mortgage fraud can be viewed in full HERE.
Barack Obama, Obama Campaign Press Release - Barack Obama Discusses Plan to Revitalize Economy Online by Gerhard Peters and John T. Woolley, The American Presidency Project https://www.presidency.ucsb.edu/node/292859