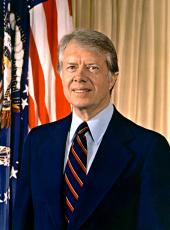 Nuclear Non-Proliferation Act of 1978 Statement on Signing H.R. 8638 Into Law.
I am pleased to sign into law today H.R. 8638, the Nuclear Non-Proliferation Act of 1978. Enactment of this legislation takes us a major step toward fulfillment of an objective which the United States shares with other nations—a halt in the spread of nuclear weapons capability while preserving the peaceful use of nuclear energy.
The Congress has responded to this challenge with both care and courage in establishing a framework for ensuring that we meet these objectives. Senators Ribicoff, Glenn, and Percy, Representatives Zablocki, Bingham, and Findley, their colleagues on the committees which developed this bill, and their staffs have my respect and my thanks for their leadership on this issue. It has been a privilege for me, as it has been for Secretary Vance and other members of my administration, to work with them on the Nuclear Non-Proliferation Act of 1978.
Our efforts to prevent the spread of nuclear weapons began more than 30 years ago, when we went to the United Nations with an offer to place certain aspects of nuclear energy under international ownership and control. The passage of the Atomic Energy Act of 1954 and the adoption of the Non-Proliferation Treaty by the United Nations in 1968 and now this law, each have moved us further toward attainment of our nonproliferation goals.
On April 7 and 27 of last year, I outlined the policies and programs which we would implement to diminish proliferation risks. Today, I want to reaffirm this administration's strong commitment to that policy. We also recognize that nuclear power technologies now in operation, which do not involve nuclear fuel reprocessing, can and must provide an important source of energy for our Nation and for their countries. Our current once-through fuel cycle is and will continue to be a significant contributor to our energy supply. Properly managed, it can function without increasing the risks of proliferation. Our policy takes a responsible course between forgoing the energy benefits of nuclear power and becoming committed to commercialized use of plutonium before we know that we can deal safely with its risks.
I continue to oppose making premature and unnecessary commitments to commercialization of the fast breeder reactor and reprocessing, as exemplified in the United States by the Clinch River and Barnwell projects.
We and the other nations of the world must use the time we now have and pause to develop safer technologies, better institutional arrangements, and improved safeguards which will permit all nations to achieve their energy objectives while preventing the spread of nuclear weapons.
More than 40 nations have already joined with us in an International Nuclear Fuel Cycle Evaluation to explore and assess our means of meeting these twin goals. During this period of examination, the uranium-fueled reactors now in widespread operation can be used without incurring new proliferation risks. If our common search for improved institutions and technologies is to be successful, however, all nations will be required to avoid those steps which prejudice the outcome of the INFCE.
The Nuclear Non-Proliferation Act sets the conditions and criteria which will govern U.S. cooperation with other nations in our efforts to develop the peaceful use of nuclear energy. The encouragement of universal ratification of the Non-Proliferation Treaty is central to the act, as is the establishment of a comprehensive set of controls, including application of International Atomic Energy Agency safeguards and provision of a stable framework for international nuclear cooperation and commerce. The act will also make our export licensing process more predictable.
We also will be taking steps to strengthen the safety and security of the fuel cycle we now have in operation and to ensure that it continues to be an efficient and reliable source of energy, both domestically and abroad.
Over the course of this year, we will develop comprehensive policies for management and disposal of radioactive waste, including implementation of the spent fuel storage program announced last October. To ensure our ability to continue as a reliable supplier of uranium fuel to those who share our nonproliferation objectives, we are moving ahead with a new enrichment plant at Portsmouth, Ohio.
Preventing nuclear proliferation will not be easy—some have called this task impossible. I believe, however, that halting the spread of nuclear weapons is imperative. We must press forward in our efforts. Fear of failure cannot be allowed to become a self-fulfilling prophecy.
In our first year, we have made substantial progress. The nuclear-supplying countries have agreed upon and published guidelines for the export of nuclear fuel and technology. The International Nuclear Fuel Cycle Evaluation is under way. As this legislation now becomes law, we are establishing clear criteria and incentives for nuclear cooperation, as well as sanctions against violations of safeguards.
Although I still have reservations about the numerous provisions in this act which state that Congress may invalidate or approve executive branch action by concurrent resolution, I am signing it because of its overwhelming importance to our nonproliferation policy. I do wish to make clear, however, that by signing this act, I am not agreeing that the Congress can overturn authorized executive actions through procedures not provided in the Constitution.
In conclusion, I am persuaded that the new criteria, incentives, and procedures in this act will help solve the problems of proliferation. They will help to ensure that access to nuclear energy will not be accompanied by the spread of nuclear explosive capability. While I recognize that some of these provisions may involve adjustments by our friends abroad, this more comprehensive policy will greatly increase international security. I believe that they will ultimately join us in our belief that improved world security justifies the steps which we all must take to bring it about. Control over the spread of nuclear weapons on our planet is one of the paramount questions of our time.
If the world is to benefit from the great potential of nuclear power, we must act now to protect ourselves and future generations from its worst dangers. We in the United States will dedicate our expertise and technical resources to this task, and we urge other countries to do the same. Let us continue to work together to achieve these goals.
Note: As enacted, H.R. 8638 is Public Law 95-242, approved March 10.
Jimmy Carter, Nuclear Non-Proliferation Act of 1978 Statement on Signing H.R. 8638 Into Law. Online by Gerhard Peters and John T. Woolley, The American Presidency Project https://www.presidency.ucsb.edu/node/244751