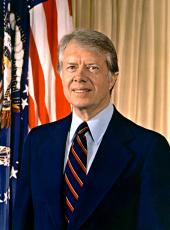 North Atlantic Treaty Organization Nomination of W. Tapley Bennett, Jr., To Be U.S. Permanent Representative.
The President today announced that he will nominate W. Tapley Bennett, Jr., of Athens, Ga., to be the United States Permanent Representative on the Council of the North American Treaty Organization with the rank and status of Ambassador Extraordinary and Plenipotentiary. Bennett was previously Deputy Representative of the United States to the United Nations.
He was born on April 1, 1917, in Griffin, Ga. He received an A.B. from the University of Georgia in 1937 and an LL.B. from George Washington University in 1948. He took graduate studies at the University of Freiburg, Germany, in 1937 and 1938. Bennett speaks German, Spanish, and French. He served in the U.S. Army from 1944 to 1946.
Prior to his entry into the Foreign Service in 1941, Bennett was an instructor at the University of Georgia and a trainee at the National Institute of Public Affairs in Washington. He served as a junior economic analyst in the American Embassy in Ciudad Trujillo in 1941 and in the Embassy in Panama in 1944.
He served in the Department on Latin American Affairs, becoming officer in charge of Central America and Panama Affairs in 1950. He became deputy director of the Office of South American Affairs in 1951. In 1954 Bennett attended the National War College.
He served as foreign affairs officer in the Office of the Deputy Under Secretary in 1955 and as Special Assistant to the Deputy Under Secretary in 1956. He was assigned to Vienna as a political counselor in 1957 and to Athens as Counselor of the Embassy in 1961.
Bennett served as Ambassador to the Dominican Republic from 1964 to 1966 and as Ambassador to Portugal from 1966 to 1969. From 1969 to 1971, he was a faculty adviser at Air University, Maxwell Air Force Base, and he served as Deputy Representative of the U.S. in the Security Council of the United Nations from 1971 until 1973, when he became Deputy Representative of the United States to the United Nations.
Jimmy Carter, North Atlantic Treaty Organization Nomination of W. Tapley Bennett, Jr., To Be U.S. Permanent Representative. Online by Gerhard Peters and John T. Woolley, The American Presidency Project https://www.presidency.ucsb.edu/node/243154