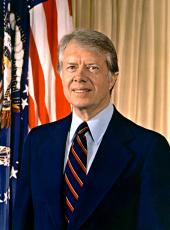 Nominations Submitted to the Senate
The following list does not include promotions of members of the Uniformed Services, nominations to the Service Academies, or nominations of Foreign Service officers.
Submitted April 12, 1977

MICHAEL D. HAWKINS, of Arizona, to be United States Attorney for the District of Arizona for the term of 4 years, vice William C. Smitherman, resigned.

LESTER A. FETTIG, of Virginia, to be Administrator for Federal Procurement Policy, vice Hugh E. Witt, resigned.
Submitted April 15, 1977

RONALD I. SPIERS, of Vermont, a Foreign Service Officer of the Class of Career Minister, to be Ambassador Extraordinary and Plenipotentiary of the United States of America to Turkey.

FABIAN CHAVEZ, JR., of New Mexico, to be Assistant Secretary of Commerce for Tourism, vice Creighton Holden, resigned.

MANUEL D. PLOTKIN, of Illinois, to be Director of the Census, vice Vincent P. Barabba, resigned.

WAYNE L. HORVITZ, of the District of Columbia, to be Federal Mediation and Conciliation Director, vice James F. Scearce, resigned.
CHECKLIST OF WHITE HOUSE

PRESS RELEASES
The following releases of the Office of the White House Press Secretary, distributed during the period covered by this issue, are not included in the issue.
Released April 11, 1977

Biographical data: Michael D. Hawkins, the President's nominee to be United States Attorney for the District of Arizona
Released April 13, 1977

News conference: following his meeting with the President--by Joseph M. A. H. Luns, Secretary General of the North Atlantic Treaty Organization
Released April 14, 1977

Advance text: address before the Permanent Council of the Organization of American States

News conference: on the President's withdrawal of the tax rebate and business tax credit proposals from the economic stimulus package--by W. Michael Blumenthal, Secretary of the Treasury, Charles L. Schultze, Chairman, Council of Economic Advisers, and Bert Lance, Director, the Office of Management and Budget
Released April 15, 1977

News conference: on the President's anti-inflation program--by W. Michael Blumenthal, Secretary of the Treasury, and Charles L Schultze, Chairman, Council of Economic Advisers
Jimmy Carter, Nominations Submitted to the Senate Online by Gerhard Peters and John T. Woolley, The American Presidency Project https://www.presidency.ucsb.edu/node/243364