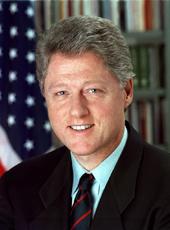 Nominations Submitted to the Senate
The following list does not include promotions of members of the Uniformed Services, nominations to the Service Academies, or nominations of Foreign Service officers.
Submitted July 27
Anne H. Chasser, of Ohio, to be an Assistant Commissioner of Patents and Trademarks, vice Lawrence J. Goffney, Jr., resigned.
Brian Theadore Stewart, of Utah, to be U.S. District Judge for the District of Utah, vice J. Thomas Greene, retired.
Petrese B. Tucker, of Pennsylvania, to be U.S. District Judge for the Eastern District of Pennsylvania, vice Thomas N. O'Neill, retired.
Thomas B. Leary, of the District of Columbia, to be a Federal Trade Commissioner for the term of 7 years from September 26, 1998, vice Mary L. Azcuenaga, resigned.
Submitted July 28
Martin Neil Baily, of Maryland, to be a member of the Council of Economic Advisers, vice Janet L. Yellen.
James G. Huse, Jr., of Maryland, to be Inspector General, Social Security Administration, vice David C. Williams, resigned.
Dorian Vanessa Weaver, of Arkansas, to be a member of the Board of Directors of the Export-Import Bank of the United States for a term expiring January 20, 2003, vice Maria Luisa Mabilagan Haley, resigned.
William J. Clinton, Nominations Submitted to the Senate Online by Gerhard Peters and John T. Woolley, The American Presidency Project https://www.presidency.ucsb.edu/node/227396