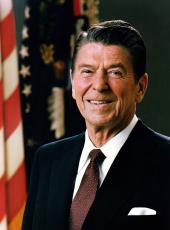 Nomination of Three Members of the Commission on Civil Rights
The President today announced his intention to nominate the following individuals to be members of the Commission on Civil Rights.

Robert A. Destro is serving as general counsel for the Catholic League for Religious and Civil Rights in Milwaukee, Wis. In addition, he is adjunct associate professor of law at Marquette University School of Law. He was associate attorney with the firm of Squire, Sanders and Dempsey in Cleveland, Ohio in 1975-1977. Mr. Destro graduated from Miami University (A.B., 1972) and Boalt Hall School of Law (J.D., 1975). He is married and resides in Fox Point, Wis. He was born September 6, 1950. He would succeed Murray Saltzman.
Constantine Nicholas Domballs is serving as dean of the Sts. Constantine and Helen Greek Orthodox Cathedral of Virginia, in Richmond, Va. He is also serving as president of the Hellenic College and Holy Cross Theological School Alumni Association and is on the National Presbyters Council. He serves on the State Board, Virginia Rehabilitative Services, the United States Holocaust Memorial Council, and the United States National Commission for UNESCO. He received degrees in theology from the following institutions: Hellenic College, Greek Orthodox Seminary of the Holy Cross, and the Episcopal General Theological Seminary. He did postgraduate work at the Episcopal Theological Seminary in Cambridge, Harvard University Divinity School, and Columbia University. He is married, has two children, and resides in Richmond, Va. He was born July 29, 1925. He would succeed Mary Frances Berry.
Guadalupe Quintanilla has been assistant provost at the University of Houston since 1978. She has been with the University of Houston since 1969 and has served as assistant professor, Spanish department, and curriculum and instruction department, since 1976. She was director of the Mexican-American studies program at that institution in 1972-1978. In addition, she has been director of the Spanish program for the YMCA, in Houston, Tex., since 1969. She graduated from Pan American University (B.S., 1969) and the University of Houston (M.A., 1971; Ed. D., 1976). She is married, has three children, and resides in Houston. She was born October 25, 1937. She would succeed Blandina Cardenas Ramirez.
Ronald Reagan, Nomination of Three Members of the Commission on Civil Rights Online by Gerhard Peters and John T. Woolley, The American Presidency Project https://www.presidency.ucsb.edu/node/245943