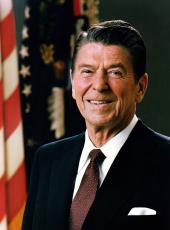 Nomination of Six Members of the National Council on the Humanities
The President today announced his intention to nominate the following individuals to be members of the National Council on the Humanities, National Foundation on the Humanities, for terms expiring January 26, 1990:
William Barclay Allen, of Claremont, CA, is associate professor of government at Harvey Mudd College in Claremont, CA. He is married and has two children. He was born March 18, 1944, in Fernandina Beach, FL. He would succeed Charles V. Hamilton.
Mary Josephine Conrad Cresimore, of Raleigh, NC, was founding chairman of the City of Raleigh Arts Commission and served as president of the Raleigh Chamber Music Guild (1983-1984). She was a founding member of the Friends of the John F. Kennedy Center for the Performing Arts. She is married and has three children. She was born February 11, 1936, in Chicago, IL. She would succeed Louis J. Hector.
Leon Richard Kass, of Chicago, IL, is professor of the liberal arts of human biology, the College of the Committee on Social Thought, the University of Chicago. He is married and has two children. He was born February 12, 1939, in Chicago. He would succeed M. Carl Holman.
James Vincent Schall, of Washington, DC, is associate professor of the department of government at Georgetown University. He was ordained a Roman Catholic priest in 1963. He was born January 20, 1928, in Pocahontas, IA. Father Schall would succeed Leon Stein.
Kathleen S. Kilpatrick, is president of the American Literary Society and publisher of the Yale Literary Magazine in New Haven, CT. She is married and resides in New Haven. She was born May 12, 1952, in Portsmouth, VA. She would succeed Harriet Morse Zimmerman.
Helen Marie Taylor, of Richmond, VA, has been active in the performing arts as a producer, director, actress, teacher, and lecturer. She is also an architectural and planning consultant. She is married and has four sons. She was born November 17, 1923, in Waco, TX. She would succeed Mary Beth Norton.
Ronald Reagan, Nomination of Six Members of the National Council on the Humanities Online by Gerhard Peters and John T. Woolley, The American Presidency Project https://www.presidency.ucsb.edu/node/261451