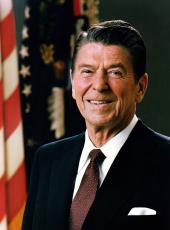 Nomination of Robert Thomas Hennemeyer To Be United States Ambassador to The Gambia
The President today announced his intention to nominate Robert Thomas Hennemeyer, of Illinois, a career member of the Senior Foreign Service, Class of Minister-Counselor, as Ambassador to the Republic of The Gambia. He would succeed Larry Gordon Piper.
Mr. Hennemeyer served in the United States Army in 1944-1946. He was an instructor in the Chicago city high schools and Junior College in Chicago, IL, in 1948-1952. In 1952 he entered the Foreign Service as program officer, Division of Exchange of Persons, in the Department. He was Director of the United States Information Centers in Bremen (1952-1953), and principal officer in Bremerhaven (1953-1954). In 1954 he was Assistant United States Secretary to the Allied General Secretariat of the Allied High Commission in Bonn and economic officer in Munich in 1954-1958. In the Department he was Assistant Chief of Protocol (1958) and desk officer in the Bureau of African Affairs (1958-1960). In 1960-1961 he attended African area studies at Oxford University. He was deputy chief of mission in Dar es Salaam in 1961-1964 and faculty adviser at the Naval Academy in 1964-1965. In the Department he was Director of the Functional Personnel Program (1966-1967) and Special Assistant to the Director General of the Foreign Service (1967-1968). He was chief of the political section in Oslo (1968-1971) and consul general in Dusseldorf (1971-1975). In 1975-1976 he attended the senior seminar on foreign policy at the Foreign Service Institute, and was Senior Deputy Assistant Secretary of State for Consular Affairs in the Department in 1976-1978. He was consul general in Munich in 1978-1980. In the Department he was Senior Inspector (1981), Executive Director, in the Office of the Under Secretary for Management (1981-1983), and Executive Assistant to the Under Secretary of State for Management (1983-1984).
Mr. Hennemeyer graduated from the University of Chicago (Ph.B., 1947; M.A., 1950). His foreign language is German. He was born December 1, 1925, in Chicago, IL.
Ronald Reagan, Nomination of Robert Thomas Hennemeyer To Be United States Ambassador to The Gambia Online by Gerhard Peters and John T. Woolley, The American Presidency Project https://www.presidency.ucsb.edu/node/260951