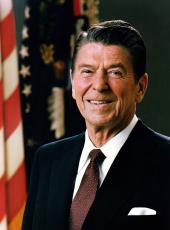 Nomination of James C. Miller III To Be Director of the Office of Management and Budget
The President today announced his intention to nominate James C. Miller III to be Director of the Office of Management and Budget. He would succeed David A. Stockman.
Since September 1981 Dr. Miller has been serving as member and Chairman of the Federal Trade Commission. Previously, in 1981, he served as Administrator for Information and Regulatory Affairs, Office of Management and Budget. He was also Executive Director of the Presidential Task Force on Regulatory Relief. He was a resident scholar at the American Enterpise Institute and was codirector of AEI's Center for the Study of Government Regulation in 1977-1981. He also served as a member of the board of editors of AEI's journal Regulation and served on the board of editorial advisers of the AEI Economist. In 1974-1975 Dr. Miller served as a senior staff economist with the Council of Economic Advisers, where he specialized in matters relating to transportation, regulation, and antitrust policy. In 1975 he was appointed as the Council on Wage and Price Stability's Assistant Director for Government Operations and Research. He also served as a member of President Ford's Domestic Council Regulatory Review Group, which directed the administration's program in regulatory reform. In 1972-1974 Dr. Miller was an associate professor of economics at Texas A&M University and served as a consultant to the Department of Transportation and the National Bureau of Standards. Previously, in 1972, he was research associate at the Brookings Institution and at AEI. In 1969-1972 he was a senior staff economist at the Department of Transportation.
Dr. Miller graduated from the University of Georgia (B.B.A., 1964) and the University of Virginia (Ph.D., 1969). He is married, has three children, and resides in Washington, DC. He was born June 25, 1942, in Atlanta, GA.
Ronald Reagan, Nomination of James C. Miller III To Be Director of the Office of Management and Budget Online by Gerhard Peters and John T. Woolley, The American Presidency Project https://www.presidency.ucsb.edu/node/260079