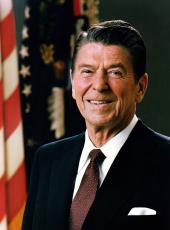 Nomination of George P. Shultz To Be Secretary of State
The President today announced his intention to nominate George P. Shultz to be Secretary of State. He would succeed Alexander M. Haig, Jr.
Mr. Shultz is president and a director of Bechtel Group, Inc., the principal companies of which are Bechtel Power Corp.; Bechtel Petroleum, Inc.; Bechtel Civil and Minerals, Inc.; and Bechtel Investments, Inc.
After a government career, Mr. Shultz joined Bechtel in May 1974 as a director and member of the executive committee.
Shultz was born in New York City and spent his childhood in Englewood, N.J. In 1942 he received a bachelors degree in economics from Princeton University. That year he joined the U.S. Marine Corps and served as an officer in the Pacific area.
In 1949 he earned his Ph.D. degree from Massachusetts Institute of Technology. He taught there from 1948 to 1957, taking a year's leave of absence in 1955 to serve as a senior staff economist on the President's Council of Economic Advisers during the administration of President Eisenhower.
He moved to the University of Chicago Graduate School of Business as professor of industrial relations in 1957 and served as dean of the Graduate School of Business from 1962 to 1968.
He served in the administration of President Nixon as Secretary of Labor from 1969 to 1970, at which time he became the Director of the Office of Management and Budget. He became Secretary of the Treasury in 1972, serving until 1974.
Shultz is currently Chairman of President Reagan's Economic Policy Advisory Board. He is a part-time faculty member at Stanford University's Graduate School of Business. Shultz is a member of the boards of directors of General Motors Corp. and Dillon Read and Co., Inc., and a member of the International Council of Morgan Guaranty Trust Co. His most recent book, "Economic Policy Beyond the Headlines," was published in 1978 in the portable Stanford series and by W. W. Norton and Co., Inc.
Mr. Shultz is married to the former Helena M. O'Brien of Nashua, N.H. They have five children.
Ronald Reagan, Nomination of George P. Shultz To Be Secretary of State Online by Gerhard Peters and John T. Woolley, The American Presidency Project https://www.presidency.ucsb.edu/node/245597