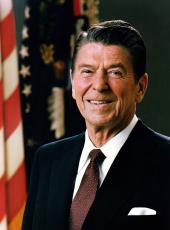 Nomination of Edwin Meese III To Be Attorney General of the United States
The President today announced his intention to nominate Edwin Meese III to be Attorney General. Mr. Meese would succeed William French Smith.
In announcing Mr. Meese's appointment, the President said that, "While I deeply regret the resignation of a close friend and long-time adviser who has served as one of the nation's very finest Attorneys General, I am delighted to be able to nominate Ed Meese as his successor.
"Ed is not only my trusted Counsellor, he is also a person whose life and experience reflect a profound commitment to the law and a consistent dedication to the improvement of our justice system. I know of no one better able to continue in the fine tradition so well represented by the service of Bill Smith."
Edwin Meese's professional career has spanned 25 years as a lawyer, public official, business executive, and educator.
Since January 1981 he has been Counsellor to the President and a member of the President's Cabinet and National Security Council. He has had management responsibility for those White House units involved in policy development, planning and evaluation, and the administration of the Cabinet.
Starting as a lawyer in 1959, Mr. Meese was appointed a deputy district attorney in Alameda County, CA, where he served as a trial attorney for 8 years, handling major litigation and investigations. During this time he was also legal adviser to the county grand jury and represented the State District Attorney's and Peace Officer's Association before the California Legislature.
Newly elected Governor Reagan selected him to be his legal affairs secretary in 1967. In this position Mr. Meese had responsibility for all legal matters in the Governor's office and for liaison with the judiciary, law enforcement organizations, and the legal profession of California.
From 1967 to 1974, Mr. Meese served as executive assistant and chief of staff to Governor Reagan. In this capacity he directed all activities of the Governor's office and had management responsibility for the Office of Criminal Justice Planning and several other State agencies involved in emergency service.
Entering business in 1975, Mr. Meese was named vice president for administration of Rohr Industries, Inc., an aerospace and transportation company located in Chula Vista, CA. He returned to the private practice of law in 1976, engaging primarily in business and corporate law in San Diego County.
In 1977 Mr. Meese became professor of law at the University of San Diego and served also as director of the law school's Center for Criminal Justice Policy and Management.
He has been active in numerous civic and professional organizations. During 1977-1980 he was vice chairman of California's Organized Crime Control Commission. He is a member of the American Bar Association and its criminal law section's "Committee on the Future." He is a member of the State Bar of California, where he has served on the Criminal Justice and Criminal Law and Procedure Committees. From 1965 to 1967, he was a part-time faculty member at the School of Law at the University of California at Berkeley. He has also lectured widely on legal topics including "The Responsibility of the Legal Profession to Provide Services to the Poor" and "Reform of the Justice System."
Mr. Meese is a life member of the California Police Association and an associate member of the International Association of Chiefs of Police. He is also an honorary member of the National Sheriffs' Association and the National Organization of Black Law Enforcement Executives.
He received his B.A. degree in public administration from Yale University in 1953 and his J.D. degree from the University of California School of Law at Berkeley in 1958. He has also received honorary degrees of doctor of laws from several educational institutions. He served in active duty in the United States Army during 1954-1956, and is currently a colonel in the Army Reserve.
Mr. Meese and his wife Ursula reside in McLean, VA, with their daughter Dana, a high school student. A son, Mike, is an Army officer living with his wife, Ramona, at Fort Ord in California.
Ronald Reagan, Nomination of Edwin Meese III To Be Attorney General of the United States Online by Gerhard Peters and John T. Woolley, The American Presidency Project https://www.presidency.ucsb.edu/node/261780