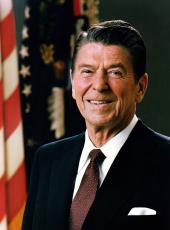 Nomination of Edward L. Rowny To Be Special Representative for Arms Control and Disarmament Negotiations
The President today announced his intention to nominate Edward L. Rowny to be Special Representative for Arms Control and Disarmament Negotiations. General Rowny will serve as the Chief Negotiator and head of the U.S. Delegation for Arms Control Negotiations. The President also announced his intention to nominate General Rowny to have the rank of Ambassador while serving in this capacity.
Lieutenant General Rowny was born in Baltimore, Md., on April 3, 1917. He was graduated from Johns Hopkins University (B.S., 1937) and entered the United States Military Academy, graduating as a second lieutenant in the Corps of Engineers in 1941.
During World War II he served as company commander and later as Operations Officer of the 41st Engineer Regiment in Liberia, Africa. In 1942 he was a member of the cadre of the 92d Infantry Division, Fort McClellan, Ala., where he served as Assistant Division G3 Operations Officer and later as commander of the 317th Engineer Combat Battalion. He commanded an infantry battalion and subsequently a regimental task force of the 92d Division in Italy.
In 1945-47 General Rowny served with the Operations Division of the War Department General Staff in Washington, D.C. In 1947 he attended Yale University, where in 1949 he received two masters degrees. Subsequently, he was assigned to the Far East Headquarters in Tokyo, Japan, as a planning officer.
In the early stages of the Korean conflict, he helped plan the Inchon invasion and acted as official spokesman for General MacArthur. During the final stages he commanded the 38th Infantry. Altogether, he fought in seven Korean campaigns.
In 1952 General Rowny was assigned to the Infantry School at Fort Benning, Ga. He then became Chief of the Advanced Tactics Group and later Assistant Director of the Tactical Department.
He attended the Armed Forces Staff College, Norfolk, Va., in 1955, and in July was assigned to SHAPE in France. There he served as Secretary of the Joint Staff for Generals Cruenther and Norstad. In 1959 he became the Army member of the Chairman's Staff Group, Joint Chiefs of Staff, a position he held until 1961. General Rowny was the Assistant Division Commander of the 82d Airborne Division in 1961-62.
In 1962 he was sent to Vietnam, where he established the Army Concept Team, charged with testing and evaluating new Army concepts for counterinsurgency operations. In 1963 he returned to the United States to serve as the Special Assistant for Tactical Mobility as a deputy to the Assistant Chief of Staff for Force Development, Department of the Army.
In 1965 General Rowny assumed command of the 24th Infantry Division, Augsburg, Germany. In 1966 he became the Deputy Chief of Staff for Logistics, Headquarters, U.S. Army, Europe and Seventh Army, Heidelberg, Germany. In 1968-69 he was Deputy Chief of Staff, Headquarters, U.S. European Command, Stuttgart, Germany. In 1969 he assumed duties as the Deputy Chief of Research and Development in Washington. In 1970 he assumed command of I Corps, Camp Red Cloud, Korea, a position he held until 1971. He was promoted to lieutenant general in 1970.
In 1971 General Rowny was assigned as the Deputy Chairman, NATO Military Committee in Brussels, Belgium. He established and chaired the Mutual Balance Force Reductions Group. General Rowny was the Joint Chiefs of Staff representative for the Strategic Arms Limitation Talks in 1973-79. He retired from the Army on June 30, 1979.
General Rowny was awarded a doctor of philosophy degree in international studies by the American University in 1977. He is currently a fellow at the Wilson Center, Smithsonian Institution.
Ronald Reagan, Nomination of Edward L. Rowny To Be Special Representative for Arms Control and Disarmament Negotiations Online by Gerhard Peters and John T. Woolley, The American Presidency Project https://www.presidency.ucsb.edu/node/247189