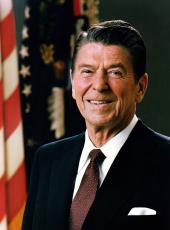 Nomination of Caspar W. Weinberger To Be Secretary of Defense
The President today nominated Caspar Willard Weinberger, of Hillsborough, Calif., to be the Secretary of Defense.
Mr. Weinberger is general counsel, vice president, and director of the Bechtel Power Corp.
He was born on August 18, 1917. He was graduated magna cum laude with an A.B. from Harvard University in 1938 and in 1941 received an LL.B. from Harvard. He is a member of Phi Beta Kappa. In 1941 he entered the United States Army as a private and was honorably discharged as a captain in 1945. He served in the 41st Infantry Division in the Pacific Theatre and on the intelligence staff of Gen. Douglas MacArthur. He was awarded the Bronze Star.
Following his admission to the California Bar, Mr. Weinberger served as a law clerk to United States Judge William E. Orr from 1945 to 1947. He was elected to the California State Legislature from the 21st District in 1952 and was reelected without opposition in 1954 and 1956. From 1947 to 1969, Mr. Weinberger practiced law with the firm of Heller, Ehrman, White & McAuliffe and was a partner from 1959 to 1969. He served as vice chairman of the California Republican Central Committee from 1960 to 1962 and as chairman from 1962 to 1964. From 1968 to 1970, Mr. Weinberger served as director of finance for the State of California. In 1970 he served as Chairman of the Federal Trade Commission, and from 1970 to 1972, he served as Deputy Director of the Office of Management and Budget. Mr. Weinberger served as Director of the Office of Management and Budget from 1972' to 1973, and in 1973, served as Counsellor to the President. He served as Secretary of Health, Education, and Welfare from 1973 to 1975.
Mr. Weinberger is married to the former Jane Dalton. They have two children: Arlin Cerise and Caspar Willard, Jr.
Ronald Reagan, Nomination of Caspar W. Weinberger To Be Secretary of Defense Online by Gerhard Peters and John T. Woolley, The American Presidency Project https://www.presidency.ucsb.edu/node/246885