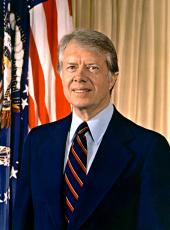 News Conference in New York City Following a Meeting with Senator Frank Church
Governor Carter. Senator Church and I have had a chance this morning to discuss at length matters concerning the relationship between the President and the Vice President, foreign affairs in particular, on matters concerning his work on the Interior Committee, the secret of the campaign when he beat me so bad in some states. And we have had a very fruitful discussion, as has been the case with the others who met with me. And as we both understand it, there is no obligation on his part or mine concerning these meetings.
It has been a very constructive thing for me.
In spite of his youth, he has had, as you know, long experience in the Senate, particularly in the field of foreign affairs. And he has been very helpful to me this morning in understanding what the relationship ought to be between the Vice President and the President, between the Vice President and the Cabinet Members, and some of his own commitments of long standing concerning correcting the problems that exist in the bureaucracy in Washington. We have had a productive and fruitful meeting.
We are now prepared to answer your questions on our meeting this morning.
Q. Governor Carter, do you share Senator Church's deep concern over excesses in the American intelligence community; and if so, how would you state that?
Governor Carter. Yes; I do. Throughout the campaign when this question has been put to me—and it came often as you can well imagine because of the high publicity concerning CIA and FBI investigations—I expressed my concern about it.
I think we need a good, competent intelligence network. We now have, I think, seven different agencies—I think that is probably too many to be deriving information from. I think there is a legitimate need for the President and the other leaders in Washington to have accurate information on which to predicate decisions concerning national defense and foreign matters. I think in addition to effectiveness, the CIA should function, for instance, in a legal way. I would want to be personally responsible to the American people as President for the proper performance of the intelligence-gathering network of our nation. And I would welcome a sharing of responsibility with the Congress.
I personally think that the oversight committee of Congress ought to be a joint committee. That is my preference. I think that's a decision for Congress to make.
And the last point: I don't think the CIA or any other agency representing our country ought to be involved in overt efforts to overthrow or modify the character of governments of foreign countries.
I think collection of information ought to be the primary role of the CIA.
Q. Does Senator Church's exposure of abuses by the CIA and the FBI create a problem for you in terms of possible selection of Church as Vice President?
Governor Carter. No, sir; even before the last primaries were concluded, we had conducted nationwide polls concerning myself versus either Mr. Ford or Reagan; and as a part of that polling effort, which I didn't know about at the time, Patrick Caddell and Hamilton Jordan included a pairing of myself and other possible persons to be Vice President—of course Senator Church was one of those—and among them, I have forgotten how many, 14 or 15 persons who were paired with me, Senator Church was at or near the top as far as being an asset to the ticket politically.
And I think that his extremely great success in the primaries of which he did enter as a candidate showed that even in very conservative states like Nebraska his role in the CIA investigations was certainly not a detriment politically, but it was an asset
Q. May we ask Senator Church a question?
Governor Carter. Of course.
Q. Coming away from this meeting with Governor Carter this morning, after some of your predecessors have met with him in Plains for a half day or more, do you have the impression that you are really in the running or that this was a courtesy extended to you?
Church. Well, I have no idea. I think that Governor Carter is seriously considering several, and he has been good enough to include me in that group.
Q. What will be your assets if you were asked to be on the ticket? What would you bring to the campaign?
Church. I think that that is for Governor Carter to judge. I did go out as a Presidential candidate, I went to the people, and late in the campaign I won some primaries. The Governor and I got acquainted on the campaign trail. That is the best place to get acquainted.
That is the best place to demonstrate whatever you can bring to the ticket.
Q. Senator, do you and the Governor have any major disagreements? ... you said in the past you knew of no major issues that separated the two of you. You have now had a good head-to-head meeting. How do you feel on this now?
Church. I didn't discover any this morning. It seems to me that we are compatible in our viewpoint, both with respect to American domestic and foreign policy.
Q. Governor, you seem to be stressing Senator Church's background in foreign affairs, his interest in that field. That would tend to support those suggestions, very hard suggestions, that Senator Church is being considered as a possible Secretary of State in a Carter Administration. I wonder if you would comment on that?
Governor Carter. Well that is an erroneous assumption. The meeting was arranged within the last few days. When Mr. Kirbo went to meet with Senator Church, he pointed out that he and his family had planned for a long time to go to the Caribbean for a vacation. And during the early part of last week he was not in the country.
I told the news media in the past that the order of my meeting with these leaders had no significance at all. Senator Jackson specifically requested that we wait until we get up here. And Senator Church indicated he would come back from the Caribbean—he went to the Bahamas—if necessary, but this was his only chance to be with his family. So we tried to accommodate his inclinations. The order of sequence has no significance at alt
Q. Governor, there is a report this morning that Senator Glenn has passed along tax returns to you that indicate an extensive use of tax shelters.
Was that checked out by Arthur Anderson; and if so, what conclusions did you reach?
Governor Carter. Yes; it was checked out by an accounting firm, I believe, and I am not sure which accounting firm checked the return, but I think that—I am sure there was no detrimental aspect to the way that Senator Glenn's income tax returns were approached. I don't feel inclined to reveal the details about it, but I can tell you that he paid an awful lot of taxes, and the tax shelter and the assessment made by the accounting firm was that it was perfectly proper—in fact, there was a very conservative approach on his part to the amount of tax money that he did pay, that he could have cut corners, but he did not.
Q. Governor, how would you describe the delicacy or sensitivity of con* ducting what amounts to a job interview with Senators; and if Senator Church would address himself to that kind of position also.
Governor Carter. That is a hard thing for me to address, but I thought about this a lot, I devised in my own mind the best procedure that I could conceive to get advice from people throughout the country, in whose judgment I trust, as a first step. The normal conversation was, if you were in the position of choosing a Vice President as your running mate, whom would you choose?
And quite often the persons that I contacted, either senior members of the Congress or those who worked closely with Congress otherwise, would say, "My own preference would be so and so, but I think the other two persons mentioned would be good."
I would say: In alphabetical order, how do you feel about another five or six?
And in addition to that, Mr. Kirbo, who is speaking for me, the only one speaking for me, met and talked with many others who were not being considered for Vice President.
Following that, and after studying in some detail the past records of those persons, I finally decided on seven people that in my own mind are the best qualified persons to be President or would be compatible with me, and as another fact would supplement my own weaknesses and so forth.
Let me say one other thing. I think that in my opinion, if I were still the Governor of Georgia, and I was invited to meet with a potential Presidential nominee as a prospective Vice President, I would consider it as an honor and not as an insult.
I might say that the meetings have been voluntary. We have only asked one person who said that he did not want to be considered, and that was because of other reasons, not because of the interview procedure.
I think it is a good procedure, and I think I will make the best judgment.
Church. I don't know of any other way for the nominee of the Democratic Party to determine who his running mate should be than the way—or no better way than the way that Governor Carter has chosen. It seems to me that he must make a judgment on the capacity of the man he chooses to serve as President, if that would happen, and also the extent to which the running mate might make a contribution in the campaign, and afterwards, the administration.
And this seems to me to be a method calculated to provide those answers, and I am glad that I was included, whatever the Governor's final decision may be, that he will be looking for the strongest possible nominee.
Governor Carter. With the exception of Senators Muskie and Jackson, I have never known these men before, except I had met just in passing Senator Church on the campaign trail, and Senator Glenn 7 or 8 years ago when he was working with RC Cola. I had no other way to get to know them.
Q. Now that we are down to that, why are they all Members of Congress?
Governor Carter. I can't answer that question. I did not deliberately try to exclude mayor and governors. They were in the original group of 15 or so that were recommended to me by persons, there were mayors and governors included.
But one of the aspects that might be a factor is that I feel a need to know more about the Washington political procedure. This is an aspect of my own experience that is missing. That would be a factor.
Q. CIA Director George Bush flew up to Hershey to brief you during the Governors? Conference, Can you give us some indication of the parameters of that briefing, and did you discuss it with Senator Church this morning?
Governor Carter. I did not discuss that briefing with Senator Church. I had asked the President about 3 weeks ago for briefings following the convention and asked him to let me know under what basic rules those briefings could be provided. When I called him back about a week later at his request, I was informed that George Bush would like to meet with me personally to tell me the procedures to be used following the convention. And that was the substance of the meeting.
I was not given a briefing on Angola or Rhodesia or other sensitive spots around the world, but I was given procedures to be followed for those briefings. The first major briefing will be, I would say, within a week or 10 days following the convention itself, and a designated person from the CIA, a professional who has been there 25 or 30 years, will come down, probably to Plains, to meet with me for possibly a full day.
And what I am going to ask the CIA is just to brief me on matters that are not of public record that might be important for me to know as I discuss foreign relations.
Q. Was there discussion about any of the potential candidates with CIA Director Bush?
Governor Carter. No, sir. That was never mentioned.
Q. Verification of something you said a moment ago------
Governor Carter. Yes, sir.
Q. Did you say there would have been eight people that you would be meeting with, except that one person declined to accept the invitation?
Governor Carter. Yes, sir.
Q. Of the eight finalists, who did not want or wasn't interested in seeking it, can you tell us who that was?
Governor Carter. Yes, sir. That was Senator Ribicoff. And when we discussed it with Senator Ribicoff, Mr. Kirbo did, he said he did not want to be considered. . . . This will be the last question.
Q. In your meeting with Senator Church this morning, since you didn't have any major differences, what impressed you most of all the things he had to talk about?
Governor Carter. That is a hard thing for me to answer. But one is his youthful approach to controversial issues, despite his youth, he has been in Congress for a long time. He is very conversant with matters of government.
Q. What field------
Governor Carter. Innovative approach toward matters that are controversial. I think there are a lot of Senators that would not have been willing, particularly with aspirations to be President, to handle the CIA question. It could have been a fatal blow to aspirations for higher office.
I think his early opposition to Vietnamese war showed a great deal of courage, particularly representing a state like Idaho where his views would probably not have been most popular in the state.
But I have a great admiration for him, and I also have observed very carefully, when he and I met on the campaign trail, that he often beat me. And I have a respect for his political philosophy.
Thank you very much.
Jimmy Carter, News Conference in New York City Following a Meeting with Senator Frank Church Online by Gerhard Peters and John T. Woolley, The American Presidency Project https://www.presidency.ucsb.edu/node/353882