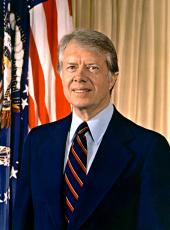 New York, New York Informal Exchange With Reporters Following a Visit to the Picasso Exhibit at the Museum of Modern Art.
Q. Mr. President, can you tell us how you enjoyed last night? Do you think that Kennedy was conciliatory enough?
THE PRESIDENT. Oh, yes. I think it was fine. Last night was good, and I think the convention, although it may have started out doubtful and kind of rocky and somewhat divided, there was a steady buildup both of enthusiasm and unity. My belief is that it's been a major step forward for the Democratic Party and I think, therefore, for the Nation.
Q. Do you think it gave you the boost in the polls? Do you think it will give you the boost in the polls your campaign advisers want?
THE PRESIDENT. I don't know. I never have worried too much about polls.
Q. Were you saying last night that Ronald Reagan was not qualified to be President?
THE PRESIDENT. Well, I was just saying that I and the Democratic Party are better qualified to run this Nation the next 4 years.
Q. Didn't you think that Senator Kennedy was a little cool?
THE PRESIDENT. I thought it was a very gracious thing for him to come.
Q. But no traditional handclasp. Why not?
THE PRESIDENT. We shook hands several times.
Q. What do you think of Picasso?
THE PRESIDENT. Great.
Note: The exchange began at approximately 9:30 a.m. outside the museum.
Following the exchange, the President went to the Grand Ballroom at the Plaza Hotel to attend a meeting of the Democratic National Committee Finance Council.
As printed above, the item follows the text of the White House press release.
Jimmy Carter, New York, New York Informal Exchange With Reporters Following a Visit to the Picasso Exhibit at the Museum of Modern Art. Online by Gerhard Peters and John T. Woolley, The American Presidency Project https://www.presidency.ucsb.edu/node/251740