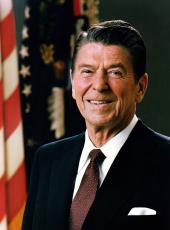 New Year's Radio Address to the People of the Soviet Union
Good evening, and s novym godom [Happy New Year]. This is Ronald Reagan, President of the United States of America. And I come to you this evening with a New Year's message from the people of America to the peoples of the Soviet Union. I had hoped to address you by way of television, and to have General Secretary Gorbachev address the American people on United States television, as was done last year. Unfortunately, your government officials declined our offer to have such an exchange of greetings. I regret that we were not able to take full advantage of this opportunity to continue to build mutual trust, which is so important to building enduring peace. As I have quoted to the General Secretary in our past personal meetings: Weapons don't build trust, mistrust builds weapons.
So, I come to you tonight over Voice of America. This season, in and around the New Year, is a season of love and hope; a time for reflection; a time of expectation; a time when people in America, just like people all over the world, gather with family and friends to remember in many different ways the blessings of God and to look to the future with hope. That's what I would like to do with you, the Soviet peoples, tonight—share our common hopes for the future, our hopes for peace on Earth, our hopes for good will among all humanity, our hopes for a better world for ourselves and our children. Yes, there are enormous differences between our two systems, but there is also something the American and the Soviet people share—something as universal and eternal as what a mother feels when she hears the cry of her newborn child—and it is those common hopes.
Last New Year's Day I spoke to you of my hopes and prayers and those of the American people for lasting peace between our two countries. I said I was determined that our two governments should build on the foundations of the Geneva summit and make advances in all areas of our relations. Well, since then a lot has happened. Both governments have worked hard together. As you know, there have been setbacks and frustrations, as well as progress. I'm disappointed that we didn't accomplish more. And yet in 1986 the United States and Soviet Union took major steps toward lasting peace.
I think the most important thing is where you succeed, and we have succeeded in a lot. At the Geneva summit, our two governments agreed to accelerate negotiations in all aspects of our relationship—including reducing nuclear stockpiles and increasing both sides' security, encouraging respect for human rights, resolving regional conflicts peacefully, and broadening contacts between our two countries. And so, in the months that followed the summit, our negotiators worked long and hard. Then this fall, Mr. Gorbachev and I met again in Reykjavik, Iceland, to see if we could speed up progress even further. And we did move things a good distance forward. Some have even been kind enough to say that on many issues, we made more progress in those 2 days than our diplomats made in the last 2 years.
Yes, a great deal of work remains, but both sides are closer now than ever before. At Reykjavik we agreed on the desirability of real reductions in nuclear arsenals and on the ultimate goal of eliminating all nuclear weapons. We agreed that as a start, we could eliminate all but a small number of U.S. and Soviet intermediate-range nuclear missiles. We also agreed to cut in half the number of strategic arms over a 5-year period. And we agreed that it's necessary to have effective verification of any final agreements. We discussed as well approaches to strategic defenses, approaches that the United States believes would protect the security and interests of both sides. As part of the strategic defense discussion, I proposed the elimination of all U.S. and Soviet offensive ballistic missiles over a 10-year period. I suggested that, as we had agreed, we cut strategic offensive forces in half in the first 5 years, and then that we go on to eliminate all remaining offensive ballistic missiles of all ranges in the next 5 years. As you've heard, we did not reach an agreement on any plan for the second 5 years. We in America are ready to discuss this or other proposals for moving beyond the reduction of the first 5 years. After our Reykjavik meeting, both sides took time to reflect on what had been accomplished and on ways to move forward again. And then the United States followed up at the Geneva negotiations with concrete proposals to implement the understandings of Reykjavik.
As we look to the new year, we in America remain ready to continue to do everything necessary to turn this hard work into verifiable agreements. Our hope is that the Soviet Union will approach negotiations with this same spirit. Peace is built not just on agreements about arms reduction but on understanding between peoples. It hasn't always made the headlines of either your newspapers or ours, but the United States and the U.S.S.R. have made progress here too by expanding exchanges and other contacts between our countries. Scientific, educational, cultural, and people-to-people exchanges, especially among our young people, have grown. We in America would like to see more of these exchanges in all areas. The American people are deeply concerned with the fate of individual people, wherever they might be throughout the world. We believe that God gave sacred rights to every man, woman, and child on Earth. "Rights," as the founders of our country wrote, "to life, liberty, and the pursuit of happiness"—rights that include the right to speak and worship freely and the right of each of us to build a better future for ourselves and our families. Respect for those rights is the bedrock on which our system is built. But let us remember that respect for those rights, for the freedom and dignity of individuals, is also the bedrock on which any true and enduring peace between our countries must be built.
Whenever there's a restoration of those rights to a man or a woman [Andrei Sakharov and Yelena Bonner], as has happened recently, it helps strengthen the foundations for trust and cooperation between our countries. And by the same token, whenever those rights are denied the foundation is seriously weakened. Much more can and should be done to strengthen that foundation. We welcome progress in this area as much as we welcome it in the effort to secure nuclear arms reduction. In fact, progress here and in all key areas of our relationship is essential if we are to build on this foundation.
Peace between our countries is also affected by events throughout the world. We Americans are proud that on this New Year's Day not a single American soldier is engaged in combat anywhere. But even so, we cannot forget that many tragic and bloody conflicts rage around the globe-conflicts that are causing untold human suffering, and that could spread. The United States stands ready to support all serious efforts to find peaceful solutions to regional conflicts. And we're ready to work with the Soviet Union and any other country to that end. There are many complex issues to be discussed between the United States and the Soviet Union. Resolving them will not be easy, but the things most worth doing seldom are.
In 1986 our two countries made progress on some of the toughest questions of all. In 1987 we'll make more, I'm sure. We must continue together on the journey toward lasting peace. Yes, peace is a journey. Peace is also a dream. For two centuries, men and women from all over the world have left their homelands to make often dangerous passages to the shores of my country, to a land of peace where they had the freedom to make their hopes into realities for their families and themselves. They had a dream, and we in America call it the American dream. But to live in a land of peace and hope is not just the American dream; it's the dream of all people, of all lands.
There's an old verse that goes, "Happy or sad, my beloved, you are as beautiful as a Russian song, as beautiful as a Russian soul." All the world knows and honors the suffering and courage of the Soviet peoples in the Second World War, just as all the world knows and honors the nobility of your diverse heritage in literature and the arts. That great heritage springs from a magnificence of the soul that no suffering can ever obscure. That suffering has also only ennobled a soul and culture that have in turn enriched all of civilization. Let us in this season of hope hear the voice of this soul that encompasses so many peoples and traditions. Let us hear the voice of all humanity's soul—the voice that speaks through Leo Tolstoy and through William Faulkner, through the martyrs, the poets, and the saints. And, yes, the voice that speaks also through a mother's prayer—with a message that you can see in a child's eyes, a prayer for peace and a message of good will to all.
So, once again, on behalf of the American people, let me wish you all a happy, healthy, and prosperous new year. Thank you. God bless you, and good night.
Note: The President's remarks were recorded at the Century Plaza Hotel in Los Angeles, CA, on December 29, for broadcast in the Soviet Union on January 1, 1987, by the Voice of America.
Ronald Reagan, New Year's Radio Address to the People of the Soviet Union Online by Gerhard Peters and John T. Woolley, The American Presidency Project https://www.presidency.ucsb.edu/node/257596